Group knits for homeless as shelters in Rhode Island are overcrowded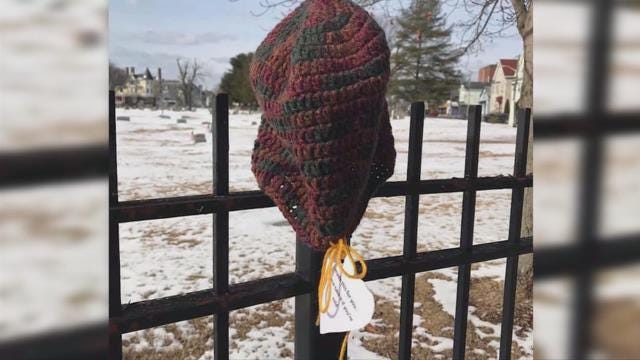 Email: BTaylor@ABC6.com
Twitter: BTaylor@ABC6
PROVIDENCE, R.I. (WLNE): It takes several weeks for anyone homeless to get a bed at a shelter in Rhode Island, which means many are forced to stay out on the streets.
With that in mind, a small group of knitters are joining together to help strangers stay warm, with a special touch.
The small group of knitters has been making scarves and hats for several years during the winter, and then placing them on fences around Providence.
"These are real people and they need their dignity," Wendy Shaw, the organizer of the knitting group, said. "We take our time doing this so they know they are not all alone."
It takes Shaw and the others more than 12 hours to knit each homemade piece. However, she would rather this than store-bought as each piece is made with love. A small note in the shape of a heart is attached to all.
"It says this was made for you. And if you didn't need it please leave it on the fence for the next guy that might," Shaw said.
According to the Providence Rhode Island Coalition for the Homeless, there is a higher demand for shelters and services right now.
"On any given night we have a little over 1,000 people experiencing homelessness," Caitlin Frumerie, the Executive Director, said.
On average, families have to wait 37 days to get shelter in Rhode Island.
"So imagine you've exhausted all other resources," Frumerie said. "You call and then you're told you have to wait because there are no shelters. It's devastating"
Shaw said they may have a small group, but together they hope to keep people on the streets warm and feeling loved, one scarf at a time.
"I hope people understand that they are not in this alone. Those people out on the street are people. They need hope."
Shaw said technically anyone can do what they are doing! The Rhode Island Coalition for Homeless also has a list of ways you can help out on their website.
©WLNE-TV/ABC6 2019