Gun video compares Raimondo to Hitler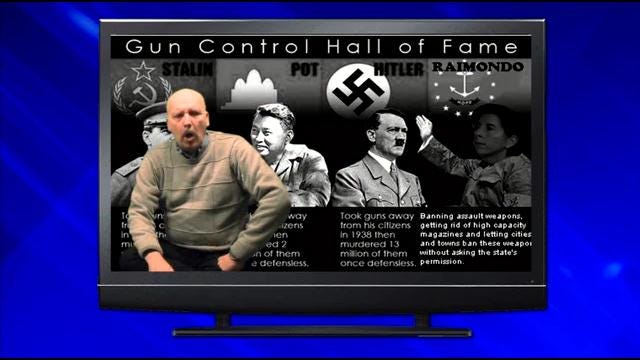 by ABC6 Chief Political Reporter Mark Curtis
"Today folks Gina Raimondo loaded the canon," said the You Tube video by Ed Doyle.
It is the political 'spot' hear round the world – a 'You Tube' video depicting candidate for Governor, Gina a Raimondo as a 'Red Coat' but also depicting her saluting three of the world's most notorious killers: Adolph Hitler, Joseph Stalin and Pol Pot.
"You know the video is offensive. You can disagree with me on the issues but there is just no place for that. It's offensive," said Gina Raimondo, (D) Candidate for Governor.
The ad comes from Democrat Ed Doyle who is running for General Assembly.
He says Raimondo wants to keep certain weapons away from people and says those ruthless killer did the same.
"My point was you cannot make those statements, to broadly make certain things illegal, without sounding like dictators of the past," said Ed Doyle from Gun Rights Across America, and a Johnston resident.
ABC6 Chief Political Reporter Mark Curtis said, "Last year the General Assembly considered a number of bills to restrict guns in Rhode Island, but nothing significant passed."
Raimondo – who spent part of the day visiting at a senior center – says her gun stance is clear.
"We need a ban on military style weapons. We need better background checks. It's just common sense," said the current State Treasurer.
Gun owner's rights groups promise to fight that.
"To protect the law abiding man woman and child of Rhode Island. So I don't see where we're going to have any more of a fight or any less of a fight, but we are going to stand our ground."
The other two Democratic candidates for governor – Angel Taveras and Clay Pell – also support some further gun restrictions.