Gwinnett Walks Off With Win To Avoid PawSox Sweep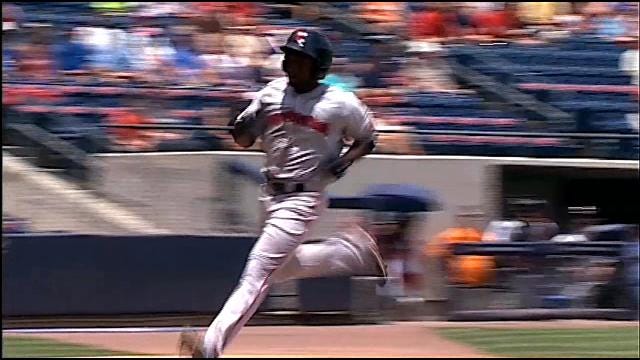 Pawtucket Red Sox Press Release
(Lawrenceville, GA) – The Gwinnett Braves scored five unanswered runs to come from behind and avoid a sweep with a 6-5 win over the Pawtucket Red Sox on Sunday afternoon at CoolRay Field. A two-run ninth inning capped the comeback and overshadowed a day that featured a strong start from Jess Todd and big offensive efforts by Quintin Berry and Carlos Peguero.
Pat Light, who came on in the eighth inning, suffered his first loss with Pawtucket. The righthander walked three in the ninth and yielded the game-winning hit to Eric Young, Jr, a two-run single down the right field line.
Peguero got the PawSox on the board in the very first inning; Jackie Bradley, Jr, walked before Berry moved him to third with a hit to right field off Gwinnett starter Alex White. With one out, Peguero's sacrifice fly scored Bradley and pushed Pawtucket ahead, 1-0.
Gwinnett tied the game in the bottom of the first. Jose Peraza tripled with one out and came home on a Joey Terdoslavich sacrifice fly.
Pawtucket seized the lead back for good in the second – and Peguero was again right in the middle of the rally. Matt Spring singled to open the inning before Sean Coyle drew a walk. Jonathan Roof then advanced them into scoring position with a sacrifice bunt.
Jackie Bradley singled to right and made it a 2-1 PawSox lead. After Berry and Allen Craig walked, Peguero singled to right to score Coyle and Berry and move Pawtucket ahead, 4-1. The slugging left-handed hitter finished the three-game set with ten RBIs.
Berry tallied three hits, a walk and three stolen bases, and drove in what proved to be the PawSox' final run. In the fourth, Roof singled to open the inning. Bradley, Jr. then ripped a base hit to right, and both runners advanced on a White passed ball. Berry then lifted a sacrifice fly to right, and it was 5-1 PawSox.
Gwinnett got a run back in the sixth. Jose Yepez and Young, Jr. lined one-out singles to put runners at the corners. Peraza plated Yepez with a sacrifice fly to left. Peraza totaled seven hits – including two triples – in the series.
The G-Braves pulled within one run in the eighth. Cedric Hunter doubled with one out and set the table for Daniel Castro. After a long battle with Noe Ramirez, Castro hit a dribbler down the first-base line. Matt Spring pounced on the roller but threw past Craig at first; Hunter scored to make it 5-4 and set the table for the ninth.
The PawSox open a seven-game homestand Monday night at McCoy Stadium with the first of four against Rochester at 7:05. Righthander Keith Couch (3-7, 5.17) will be opposed by the Red Wings' righty Tyler Duffey (1-4, 4.15) Radio coverage on 920 AM (WHJJ) and also streaming online begins at 6:50 P.M.
Good seats are still available at the McCoy Stadium box office, by calling (401) 724-7300 or by visiting pawsox.com.