Harmony firefighter files sex discrimination charge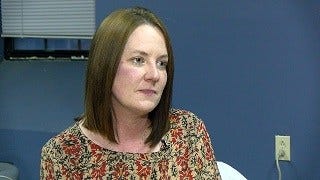 The ACLU has filed a sex discrimination charge with the Rhode Island Commission for Human Rights and the E-E-O-C on behalf of Former Harmony EMT and Firefighter Kimberly Perreault.
"I just think that the board and the chief should be held accountable for their actions," said Perreault.
Perreault had been with the volunteer fire district for 12 years working primarily as an EMT.
She says over her last year with the department she started to feel she was being treated unfairly because she is a woman.
"Just the way you were treated on scene," said Perreault." "Someone who has been on the department a week would come in and walk over you, talk over you, not pay attention to you."
Perreault also says that women in the district were not provided with turnout gear, equipment she says is vital to the job.
"I was told I didn't need it," said Perreault.
Perreault first expressed how she was feeling publicly at a board meeting in October of 2014. She says another female member of the department as well as some male members also expressed concern.
In January Perreault was let go by the Chief.
"He said I felt that I was unhappy," said Perreault.
The other female member who spoke up during that October 2014 board meeting was also fired.
The attorney for the fire district says they have not received a formal complaint as of yet.
But in general that attorney tells ABC 6 News that the district does not engage in discrimination of any type.
(C) WLNE 2015