Hasbro unveils "Ms. Monopoly," first game where women make more money than men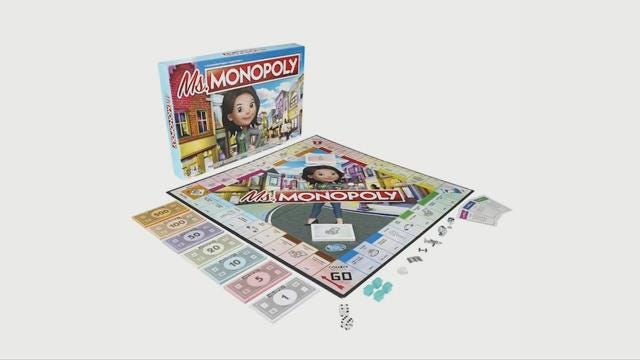 By: Ellie Romano
Email: ERomano@ABC6.com
Twitter: @ERomanoABC6
PAWTUCKET, R.I. (WLNE) – The classic Monopoly game is getting a major facelift. Pawtucket-based Hasbro unveiled the newest version of the game, titled "Ms. Monopoly."
The game comes with a modern twist: It's the first game of its kind where the female players make more money than the male players.
Unlike the classic game, women will collect 240 Monopoly bucks when they pass "go," while male players will collect the usual 200. Female players also start with more money.
According to Hasbro, Ms. Monopoly is Mr. Monopoly's niece. She's a self-made investment guru and her game is designed to celebrate women trailblazers.
The game has received mixed reactions.
"It's been reverse for so long, give us an opportunity," said Emily Flanagan.
Others think the game misses the mark on spreading a message of equality.
"If you explained to a little boy the game's rules, he'd probably say it was unfair," said David Jackson. "A little girl would say the same thing if you explained some of the issues we have today."
Hasbro said the game is supposed to bring attention to the gender wage gap. The company released the following statement:
While the game first and foremost celebrates the accomplishments of female entrepreneurs, there are also game pieces designed to create conversation around gender equality and reward the important role men play in supporting female empowerment. — Hasbro
For working women like Flanagan, the game shines a realistic light on an issue women have been struggling with for generations.
"It took me 30 years to get where I am," said Flanagan. "I started from the lowest level and I watched a lot of people get promoted before me that did not have the experience, but they were strictly promoted because of their gender."
There's another twist in Ms. Monopoly: instead of buying properties, players collect inventions created by women, like WIFI, chocolate chip cookies, and bullet proof vests.
"With this game, we want to recognize and celebrate the many contributions women have made to our society and continue to make on a daily basis – because it's about time!" Hasbro said in a statement.
The game is now available for pre-order.
WLNE-TV / ABC6 2019