Heart attack survivor forms life time bond with ER doctor who saved her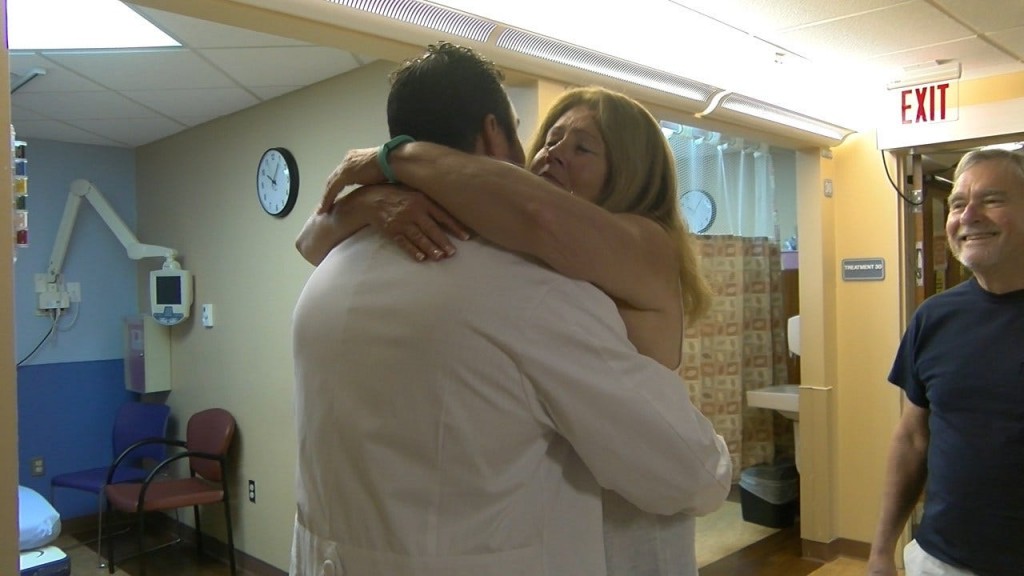 By: Melissa Randall
Email: mrandall@abc6.com
Twitter: @MRandallABC6
Providence, R.I. (WLNE)– 5 years after her heart attack, Mary Lefebvre, 62, of Scituate met face– to–face with the doctor who saved her life.
"I am so grateful for you!" she exclaimed through tears.
In January 2012 Lefebvre was rushed to The Miriam Hospital in Providence. She was seen by Dr. Joseph Lauro and his team. They worked on her for 45 minutes before she could be stabilized enough to be brought into the operating room. Dr. Lauro never gave up on Lefebvre.
"I heard all the conversations. I was dead. He pulled me back to life," said Lefebvre.
Lefebvre suffered no permanent damage to her heart. Every year on the anniversary she writes Dr. Lauro, thanking him for saving her life. In the cards she tells him about the wonderful things she has been able to do including traveling the world and becoming a grandmother.
"What do you say to someone that actually saved your life? That gave you a whole new life? A better life? Somebody that doesn't even know you. I sat down and the words just came," she said.
"I've been getting these cards for years now and I expect them. I'm hopeful for them. They really are invigorating," said Dr. Joseph Lauro, MD, an emergency medicine doctor with the Miriam for eight years.
The two have become pen pals of sorts, but never had the opportunity to meet up in person—
until last week. The moment was overwhelming for Lefebvre.
"He is with me every single day. There is not a day that goes by that I don't think about him and thank him for what he did," said Lefebvre.
Dr. Lauro is humble. He says he was just doing his job.
"Something like this reminds us that this is exactly where we are here. We are here to make this difference in people's lives," said Dr. Lauro.
Dr. Lauro shares the cards from Lefebvre with his colleagues and medical students. He hopes to inspire them the way she inspires him.
Their bond was formed out of crisis, but will last a lifetime.
© WLNE-TV 2017