Heat means business for local ice company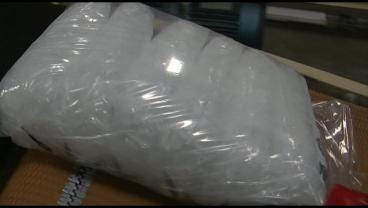 By: Liz Tufts
The storms moving through southern New England should bring us some relief from the sweltering temps we've had the past few days.
While many of us are ready for the change one business is far from melting away.
A local ice company is so busy they're equipment can't keep up.
Here, inside the Eastern Ice House in Fall River, there only one word to describe the past few days: busy, busy.
Three straight days of temperatures in the 90's means no slowing down.
"You work a lot…here 7 days a week 16 hours a day. Machines are running at full capacity. We gotta keep going because it goes out as fast as we make it.", says Chad Rossi, the manager.
For brothers Craig and Chad Rossi the sweltering heat outside means bagging up more ice inside.
"Everybody complains about the heat and I complain about my hands being cold all day," says manager Craig Rossi.
The plant is capable of producing 220 tons of ice per day.
On a day like today, they expect to ship out 40 thousand bags to area liquor stores and supermarkets in Rhode Island, South Eastern Mass, and parts of Connecticut.
This month alone, the numbers are high with million 5 lbs bags.
It's good news for this family company which has been in the Rossi family for five generations.
But these brothers admit sometimes it's hard to keep up.
They want it sooner than we can get it to them most times.
But they're up for the challenge, because before they know it, business will start to melt away.
This place is a ghost town during the winter.