Heather Abbott Reads to Students in Cumberland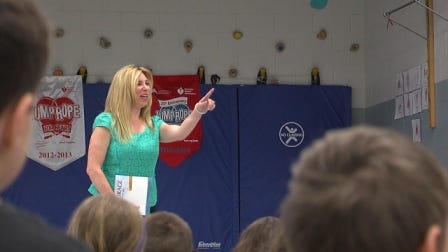 By Matt Blanchette
Twitter @mattblanchette
The Boston Marathon is just
two weeks from today, and survivor and Newport native Heather Abbott continues to
share her story.
Abbott kicked off reading week at the Garvin Memorial School
in Cumberland Monday morning.
She read a book aptly titled 'Courage' to the group of 3rd,
4th and 5th graders.
Abbott said she enjoys speaking with younger
audiences.
"They typically ask questions that adults would like to ask,
but don't, like how do you get your clothes on and how do you take a shower," Abbott said. "And those types of questions that people are curious about but don't always
feel comfortable asking. It is refreshing to get those questions."
The children were especially interested when Abbott removed
her prosthetic leg.
Abbott says she will be at the marathon this year and
will run the final stretch, crossing the finish line with the woman who saved
her after the bombing.