Heavy Security at Bristol Fourth of July Parade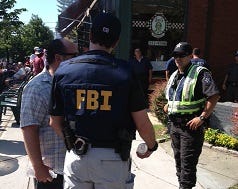 Dee DeQuattro
ddequattro@abc6.com
There is extra security at the Bristol Fourth of July Parade
this year in light of the recent bombings at the Boston Marathon.
Mailboxes have been temporarily removed from the from of
homes on Hope Street as the festivities begin. Trash barrels are also missing
from this year's parade route, instead clear plastic bags hang along trees and
pole on the two and a half mile route.
FBI, homeland security, state police and local police are also
out in heavy force. Members of the joint terrorist task force are also on scene. areas that once had one police officer in the past now have
three officers .
(C) WLNE-TV 2013