Historic East Greenwich Hosts Memorial Day Parade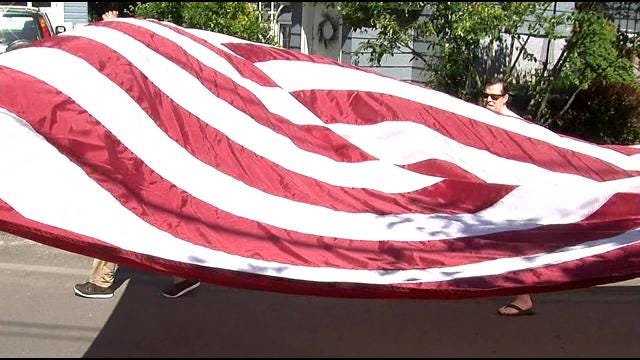 by ABC6 Chief Political Reporter Mark Curtis
"Ready, march!" shouted their leader, as the colorful Kentish Guards led off the annual Memorial Day parade in East Greenwich.
It was a colorful and patriotic tribute.
To some, Memorial Day is part of the family business.
U.S. Army Sgt. 1st Class Carlos Riojas said, "Well actually I come from a long lineage of military family. My grandfather was in World War II; my dad was in Desert Storm; and I've been in Iraq so, to me this is just a normal day I guess."
As always the Memorial Day parade include local school bands, scout troops, and pageant queens.
ABC6 Chief Political Reporter Mark Curtis said, "It did turn out to be a gorgeous day; one perfect for picnics, barbeques and parades. But most of all this was about honoring those who died defending this country."
It was appropriate to have the Navy band play. Many historians believe the U.S. Navy was founded in East Greenwich.
It was somber day, too.
Charles Callahan lost four friends while fighting in Iraq.
LCDR Callahan, U.S. Navy, said, "For me it's about coming out here to remember them and make sure nobody ever forgets them either."
"We were conducting operations over in Iraq. And we lost them while recovering an air wing during an air accident," Callahan added.
U.S. Army WAC Lucy Amat was thrilled to be at the parade saying, "I was in the Army; the WACS. I loved it and I loved this."
And many came out to show their love and thanks, for those who fought and made the ultimate sacrifice.