Hocus Pocus 2 crew purchases hundreds of items from New Bedford antique shop for RI sets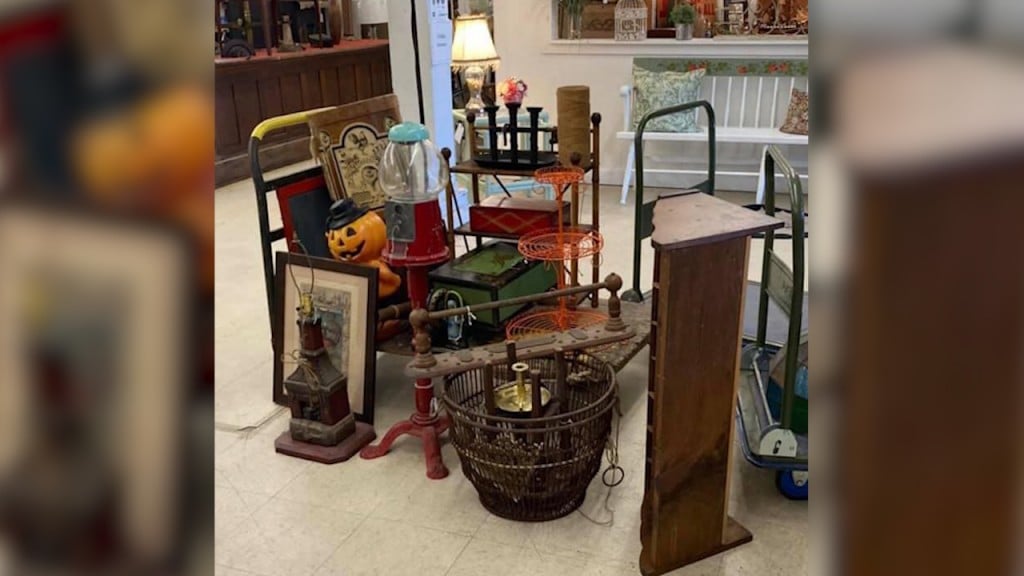 NEW BEDFORD, Mass. (WLNE) – An antique shop in New Bedford got a taste of Hollywood when paid a visit from set buyers for Hocus Pocus 2, the highly-anticipated sequel to Disney's cult-classic Halloween film.
New Bedford Antiques at the Cove is frequented by set buyers, said employee Donna Gagne, and each time they come in it's just as exciting as the first time.
"Periodically the movie studios and the production companies will come in and we never know who's coming in or what they're working on. It just happened that they said the words 'hocus pocus' to us and I remember my kids watching that movie all the time and growing up with it," said Gagne, who's worked at the antique store for close to 15 years. "Oh, it's exciting. It's always a good day when they come in. They always bring a great, positive energy about them, you're always curious about what they're doing, and it's a lot of fun to sell the stuff that's going to be in those movies."
The set buyers for Hocus Pocus 2 purchased so many items that they had to make two trips, she said.
"Exactly how many, I'm not sure, but they did purchase upwards of almost 200 items. We had 17 pages of sales from them. They purchased a lot of dark color items, things that were very prominent to the New England area, especially a haunted style that you'd be looking for," Gagne said. "Bookcases, lamps, some Halloween decorations, but more just house decor – chairs, lamps, pictures, mirrors, things like that."
The sequel is filming at Chase Farm in Lincoln and the Cranston Street Armory in Providence starting in October. Set construction is well underway in Lincoln, where a 1600s-era village is being built for the highly-anticipated sequel to the 1993 film that will welcome back original stars Bette Midler, Sarah Jessica Parker, and Kathy Najimy.
Gagne said she was hoping the stars themselves would pay the store a visit, but they haven't been so lucky.
"You're always hoping that they'll come in and see where the things are, but we haven't been fortunate yet to meet any of them."
She said the store first started getting visits from production teams around 2008, and it's been a steady stream of business ever since.
"I believe the first movie we ever did was 'Moonrise Kingdom', and ever since then, they've always come back. I'm not sure exactly why they came to this area, what made them start coming to the antique stores, but that's the first time we saw them and we've seen them just about every year since. We've done everything from Paramount Pictures to HBO and even Netflix. So, it's really exciting. We never know what's coming through the door."
Gagne believes it's the store's size and selection that keep them coming back.
"Word has gotten around. The size that we are, we're approximately 1.5 acres, (and) we do have really great prices for antiques."
Gagne said business at the antique shop has improved during the pandemic. She said it seems people are more interested in older items now than they were before the pandemic.
"We're very fortunate that we can give back memories to people and we do have a lot of things from people's childhoods. I think now more than ever, people want the older stuff. They don't want to keep adding to the landfills and buying new things. They know the value is in the older items," she said. "For a store that sells old, there's always something new and that's exciting."
© WLNE-TV 2021