'Holy moly, this is a clam!'; Wakefield boy finds massive quahog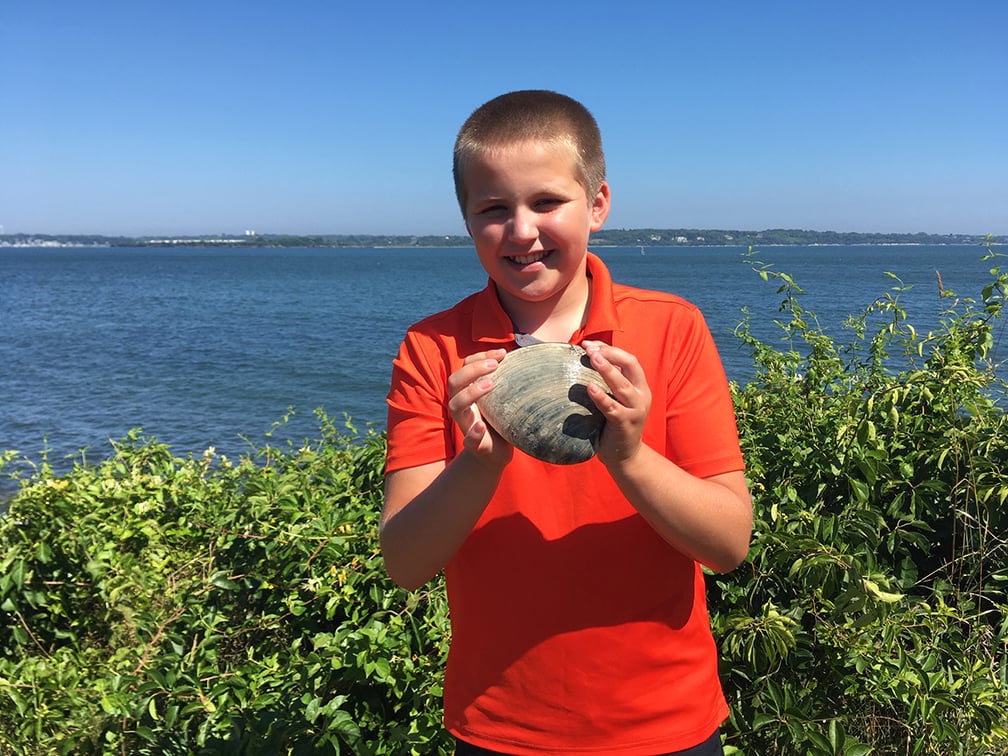 NARRAGANSETT, R.I (WLNE)– A Wakefield boy out digging clams with his grandfather made the discovery of a lifetime– a massive quahog weighing nearly two and a half pounds and measuring almost 6 inches across.
Cooper Monaco, 11, was somewhere in Weekapaug, Westerly (he's keeping the exact location a secret for now) with his grandfather on their weekly clamming excursion, when he pulled out the whopper.
"I was down on my hands and knees in the water looking for clams, and I touched this huge rock thing," Monaco said. "I always pull out rocks and throw them to the side and look under them. And then I felt the edge of it and I thought, 'Holy moly, this is a clam.' So I pulled it out. It was amazing."
The thought of finding a quahog that big might make a number of Rhode Island residents hungry for chowder and one giant stuffie, but Monaco knew he had something special.
"I've been reading the Guinness Book of World Records, so I told my mom not to cook it just in case it's a record breaker," Monaco said.
According to a statement from the University of Rhode Island, the quahog "is one of the largest specimens on record, though the Rhode Island Department of Environmental Management does not keep quahog records."
Typically, a quahog grows to about 4 inches across, URI said.
So while a record breaker may be difficult to prove,  Monaco decided to donate the clam to URI's Marine Science Research Facility at its Narragansett Bay Campus.
Ed Baker, manger of the facility, said he plans to display it alongside rare blue lobsters and other sea life pulled from Narragansett Bay, according to the URI statement.
"We try to inspire young kids to get interested in marine science by showcasing some of the marine life found in the bay," Baker said. "We also highlight some of the interesting research conducted here and explain why it's important."
The facility is usually open to tours by appointment, but is temporarily closed due to the pandemic.
Meanwhile, Monaco continues to marvel at his luck.
"I've never seen a clam even half that size before," Monaco said. "I've pulled out big rocks that size before, but it's really unusual to find a clam this big. It was my lucky day."
Luck or not, it was certainly a day for him to remember– Monaco also earned his black belt in karate that same day.
©WLNE-TV/ABC6 2020