Homeless encampment at State House dismantled after judge rules in favor of eviction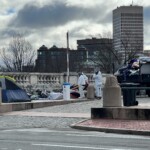 PROVIDENCE, R.I. (WLNE) — The tents that were set up on the steps of the State House were dismantled Saturday.
The removal comes after a Superior Court judge ruled Friday that Gov. Dan McKee can have the homeless campers evicted.
Tuesday, the Rhode Island ACLU said they filed a lawsuit on behalf of the homeless people who were camped outside of the government building.
The ACLU argued that the homeless people were exercising their First Amendment right to protest.
Additionally, they said the campers were aiming to "convey a message that they are in need of and unable to access adequate shelter."
The judge ruled that the plaintiffs failed to explain how efforts to remove those tents from the property were a direct violation of their rights.
The Rhode Island ACLU's Attorney Lynette Labinger said they will continue to work for better solutions despite being disappointed with the courts decision.
As of Friday night, the Cranston Street
Armory and two temporary shelters opened their doors to the homeless.
Saturday afternoon, McKee made an unannounced visit to the armory.
McKee told ABC 6 reporter Dominique Turner that the first 24 hours of the warming station have been "successful and upbeat."
"Seeing the front of the state house being cleaned up right now that's a good positive message, but if you don't have shelter and places where people could go then that would be a problem," McKee said.
McKee continued to say he believes the eviction was the right decision.
"Right now, we're just going to keep on trying to find shelters and increase the that number and work with the people who want to do the work," he said.
McKee told Turner that he plans on sharing ways that the public can directly get involved in the state's plan to help and give back to the homeless within the next week or so.