HOMETOWN HERO: Laura Kilgus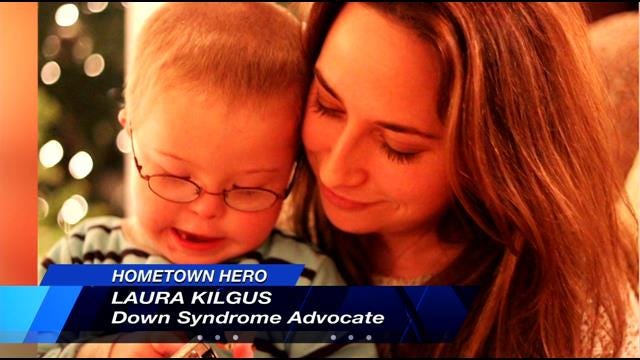 By: Alexandra Cowley
acowley@abc6.com
A Providence photographer is using her personal experience to change the way people view children with Down Syndrome. Laura Kilgus' nephew, Tommy, was her inspiration.
Kilgus spends her free time capturing the joy of kids with Down Syndrome and is hoping social media will help share her message: these kids may have Down Syndrome, but they're not suffering. They're living perfectly happy lives.
When Laura Kilgus is behind her camera, she really comes alive.
"There's a smile," laughed Laura.
It's her subjects that make her feel that way.
"Just to see how much fun they've had on these photo shoots, that's really a driving thing for me," explained Laura.
In this shoot, she's capturing the joy of 18 month old Sam, his 3-year-old brother Nick, and their mom Lauren.
"This is fantastic that she wants to capture the amazing personalities of these little guys," said mom Lauren St. Amour.
Laura works full time as a photographer and editor for the Rhode Island Catholic Newspaper and volunteers with the Down Syndrome Society of Rhode Island. She takes pictures of the children free of charge. Laura became passionate about helping the Down Syndrome community after her nephew Tommy was born.
Laura says Tommy has been the biggest blessing to her family. She says he's a ball of energy with a huge personality. So, it really bothered her when people would say he's suffering.
"Something about that word, you know just lights a fire really because that's exactly the opposite. Because he's not suffering. He's living joyfully with Down Syndrome a lot like any other child," explained Laura.
Laura has now made it her mission to show the world what she already knows. Down Syndrome does not define these kids, it makes them perfectly unique.
Lauren St. Amour describes her son Sam, "he's the happiest baby you can imagine, he's the easiest."
Laura does four free group sessions a year with DSSRI and private sessions on the side. She lets the kids run and have fun capturing their personalities on the go.
"They love seeing the photos of the kids with these ginormous smiles," explained Laura.
"It's priceless to have these memories captured and I'm a stay at home mom so we can't really afford to have pictures done often so its nice to have someone like Laura who's so willing to help us out and capture these moments," she said.
The time Laura gives showcasing the joy of these kids is well worth it. She's shining a positive light on a community that never asked for sympathy, just acceptance.
"You know finding something your passionate about and devoting your skills to that is just a special opportunity," she smiled.
Laura's work has already gained national attention. It's been featured on Good Morning America.
(C) WLNE-TV 2016