Hometown Hero: Pete Sherman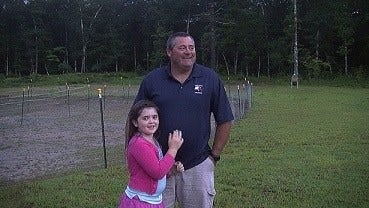 By: Alexandra Cowley
acowley@abc6.com
Tiverton resident Peter Sherman is a husband, father, and business owner. But for those who know him best, or have maybe been impacted by his selfless acts of kindness, they'll tell you Saint should be added to his resume. Which is why Pete is our Hometown Hero.
Pete Sherman has made his living for the past 20 years through his family's business; Newport Propane in Middletown. He took over his grandfather's company right after graduating college from URI. With the new responsibility of the company, came something else. A growing desire to give back.
Ron Sroka has worked for Pete for 15 years. He says, "there are two kinds of people in this world. There are givers and there are takers. Junior is definitely a giver."
Just ask anyone who knows him.
"It's been a pleasure to work with him for the past 15 years," said Sroka.
"Pete is absolutely the nicest person I've ever worked for. He's very family oriented, he loves to give back to the community," said employee Manny Reis.
As soon as he was able to, Pete has been giving free heating to at least five people each Winter. Sometimes showing up and filling up their tanks without them even knowing.
"These accolades that are coming, really do him justice," explained Sroka.
You don't have to look far to find another shining example of his generosity, it's right next door. The VFW in Middletown was on the brink of closing a few years back. So, Pete bought their parking lot for well over asking price, just to keep them open. Pete shrugs it off and says the veterans need a place to go.
VFW Post Commander Don Hawk is extremely grateful to Pete. He told ABC 6 News, "Peter Sherman, he helps us out considerably, he helped design the VFW post and he's a good man, very good. He's a good neighbor and a good man."
His resume of charitable giving and volunteer work is too long to dive into, so I'll just tell you about his most recent act of kindness. Remember the mini-horse Misty who escaped from her barn in Coventry after last weeks wild storm? It launched an all out man hunt for Denise and Alan Andre's precious baby.
"It was desperation," explained Denise.
And wouldn't you know, Pete, happened to be at a friends house nearby and spotted Misty in the woods

"I knew that was the horse, so I just hopped in the woods and went after it," laughed Pete.
Our cameras were rolling when the Andre's met Pete for the first time to thank him.
Denise held Pete in a long hug and said, "I cant thank you enough, I appreciate it, thank you so much"

"He brought my girl home, thank you, because I don't know what would have happened to her," Denise said, holding back tears.
When it was time to finally put the spot light on Pete, he became uncomfortable. It's obvious he doesn't like, or welcome the attention.
"Oh man, I don't know it's just about trying to be a good person and be a part of the community I guess," Pete explained.
His Wife Jocelyn says his giving has become an expectation because it never ends. She said, "It's wonderful because he does deserve to have that bit of recognition. Even though he's not one to be in the limelight, he does so much good for so many people."
It's even rubbing off on his two daughters, Ellen and Audrey, who have already started charity work of their own. Of course they think the world of him.
"He's a hero," smiled Ellen.
"I think the world would definitely be a better place if everybody was doing the right thing," explained Pete.
If you know someone who deserves the recognition for our Hometown Hero segment, go to our website ABC6.com and click on the Hometown Hero link.
(C) WLNE-TV 2015