Hometown Hero: Susan Donovan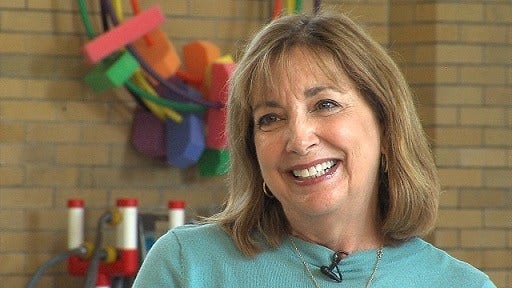 By: Alexandra Cowley
acowley@abc6.com
If you live in Bristol, there's a 99.9 percent chance you already know who our Hometown Hero is this month. That's because she taught there for over 30 years. Her name is Susan Donovan, Mrs. Donovan to her students. She's retired now, sort of, but her community service reaches far outside of the classroom and beyond Bristol.
Spend just a few minutes watching Susan Donovan run the physical education class at The Guieteras school in Bristol and you'll have a hard time determining who's having more fun. The elementary school kids or their substitute teacher.
Mrs. Donovan said, "it was really hard to retire, because I really loved my job. I rolled down the hill everyday loving to come to work. I wanted kids to love to come to school and that was my mission."
Susan made it her mission for 35 years and even after retiring, she comes back often to fill in.
"I will always, always be an educator first, it was my passion, it still is," smiled Susan.
Susan doesn't just set an example for her students in the gym. Her colleagues see her as a role model.
Fifth grade teacher Michael McGee has known Susan for 30 years. His kids had Mrs. Donovan as their gym teacher. McGee says they still talk about the impact she made on them.
"We're all in this together, but Susan just continually took those extra, not steps, but I would say miles. She really went out to help the student and the family and the community. She really took those extra steps, her heart is in the right place," explained McGee.
Susan is all about kids being healthy. She started a handful of active programs that are still going strong.
Principal Sonya Whipp of The Guiteras School was a 7th grade student when she first met Mrs. Donovan.

"She raises the bar so high for many of us. She's definitely an energizer bunny just never stops. She's always doing something," said Whipp.
Which makes sense. Right after she got done substitute teaching, she brought us to see a home she's currently building for a single mother in Bristol through Habitat For Humanity. She helped launch the East Bay Chapter in 1999.
"When I first was at a ceremony where we handed over the keys to a family I was hooked. I said I'm going to be doing this for a while," she explained.
One of those families is the Irving's. Single mother Patrina is a teacher and has always wanted a home for her daughters Mackenzie and Mackaela. Through Susan and Habitat for Humanity, the Irving's moved from a tiny apartment into their Newport home on Halloween in 2013.
"I couldn't believe they chose me out of 250 applicants. So I was just kind of blown away by the whole thing. Susan in her heart just always wants to give back. She's like the cup that overflows. She always has more to give and her well never runs dry," said Patrina.
At 62, Susan has no plans on stopping anytime soon.
"Sometimes I'm tired. Sometimes I say wow I need a rest. But I can't imagine not being a part of the community. It's who I am and who my family is actually," smiled Susan.
On top of all that Susan works as a health education consultant for Brown University and chair of the Save Bristol Harbor Education Committee.
if you think you know of a Hometown Hero. Click here and fill us in.
http://ww.abc6.com/story/29781721/nominate-your-home-town-hero
(C) WLNE-TV 2015