R.I. Church-Goers Don Hooded Sweatshirts For Trayvon Martin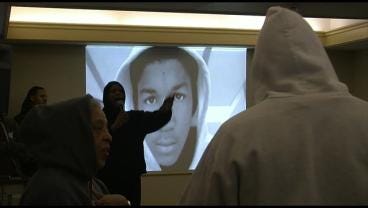 A Providence church is preaching against the controversial killing of a Florida teenager. Tomorrow marks one month since a black 17-year-old boy by the name of Trayvon Martin was shot and killed by a neighborhood watch captain. Since then, activists across the country have come out against what they believe was an act of senseless violence.
Hats and hoods usually are not allowed in church, but the congregation at Life Change Christian Church in Providence traded their Sunday best for hooded sweatshirts to stand in solidarity with the family of Trayvon Martin.
"We are here to stand against the injustice and the senseless violence that took place against a young man in Florida by the name of Trayvon Martin," Pastor Carl Jefferson preached to the crowd.
17-year-old Trayvon Martin was wearing a hoodie when he was shot and killed last month by neighborhood watch captain George Zimmerman. Zimmerman claims it was self-defense. Martin was unarmed, carrying nothing more than some iced tea and a bag of skittles.
"You don't just kill someone because you think they have something in their pocket," congregant Marquita Lawrence said.
They are questions being raised across the country including in the rows of the Providence Church, where the members held hands and prayed for answers.
"Pretend like it was your son, your daughter, your family that was gunned down by senseless violence," Jefferson shouted.
Under each hood is a voice, a voice they say was taken away from Trayvon Martin, and a voice they say will not be silenced until justice is served.
"We stand as a representation of the church of Rhode Island," Jefferson preached. "We are here to make it known that we do not stand for injustice anywhere!"