Hope Street gas station destroyed by fire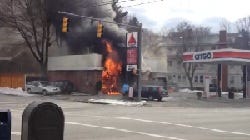 Nicole Gerber
@nicolegerber
PROVIDENCE – Fire destroyed the Citgo gas station on Hope St. in Providence this morning.
Crews were called to the scene just before 11 am.
The manager/mechanic who was working at the time told ABC6 that he was repairing a car on a raised bed when a hanging lamp fell, sparking the fire on some fuel on the ground.
Though he said he's been working there more than a decade, and is trained for situations like this, the flames got away from him, and when he realized what the situation might turn in to, he instructed everyone to get out.
No one was hurt in the fire.
Firefighters were able to put out the flames before any gas pumps were affected.
A Chevy Suburban inside the garage was also torched.
The owners of the car said they've been customers at that gas station for more than 40 years. While they are disappointed they'll need to buy a new car, they say they're just glad everyone made it out safe.
Pawtucket Police also helped on scene.
Part of Hope St. was blocked off for about 3 hours.
(c) WLNE-TV 2014