Hoping for millions: Powerball drawing tonight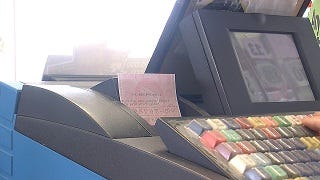 By: Samantha Lavien
Twitter: @samanthalavien
It was back to back customers at Vista Donuts in Attleboro on Wednesday as people came in to pick up their Powerball tickets for the estimated $400 million jackpot drawing.
"I'm up to three so far," said one customer.
"As far as I'm concerned I'm going to hit it," said another customer.
The drawing is the sixth largest in the nations history.
And people purchasing tickets in the area, have some big dreams about what they'd do if they won.
"If I won the Powerball I'd take care of all of my family, I'd quit my job and I'd live the rest of my life with a smile on my face," said Tony Hall of West Warwick.
"I really don't know probably leave the state right," said Earnest Ferier of Providence. "Probably to Puerto Rico or Florida."
So what exactly could you buy if you won? Well with a lump sum payout estimated at around $230 million you could buy 27 islands to have all to yourself. As an example, one island for sale called Leaf Cay in the Bahamas is 30 acres and comes with a price tag of $8.5 million.
If you're in the market for a new car, how about 51 of the 2014 the Lamborghini Veneno Roadsters? The car is listed as Forbes most expensive car this year and comes with a price tag of $4.5 million.
If you won, you could buy 28,750,000 Mr. Potato heads.
Or if you're a Dunkin Donuts fan you could purchase well over 230 million donuts with each one coming to a little less than a dollar with tax.
(C) WLNE/TV 2014