Horses removed from filth in North Kingstown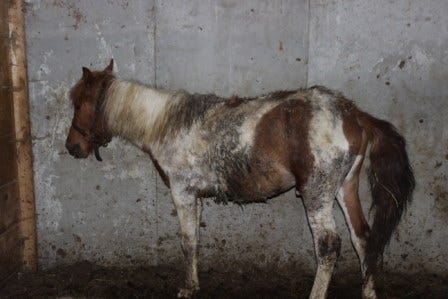 By Matt Blanchette
mblanchette@abc6.com
@mattblanchette
Several horses in North Kingstown are freed from filth after a tip leads animal control officers to their barn.
Now their owner is facing animal cruelty charges. Philip Price has been on the RISPCA radar for a long time now. He's an alleged illegal horse dealer and now his practices appear to be catching up with him.
Five horses were removed from a barn in North Kingstown after Price is accusing of leaving them in a filthy barn for a month where they were left in their own feces.
"They were in these ten by ten stalls. It's dark, they were never brought out of the stalls. They were provided hay and water but the stalls were never cleaned for a period of thirty days where the waste accumulated to a foot or so high," Dr. EJ Finnocio of the RISPCA said.
In all Price kept 13 horses on the property, 8 inside and 5 outside.
He's facing 8 counts of animal cruelty for those that were left in squalor and an additional charge of dealing livestock without a license.
That's because he's said to buy horses from other states and bring them back to Rhode Island where he sells them without the proper health paperwork.
"So horses coming into our state without health certificates or certificates or the proper tests, they could be a problem for the health of the equines in the state of Rhode Island," Finnocio said.
Five of the horses with remain in North Kingstown. They were left outside for the month and were not subject to the filth inside the barn. They are quarantines and will remain here for the time being.
The RISPCA says five of the horses already have homes lined up but the others are still in need.