Hotel workers call for minimum wage to be increased to $15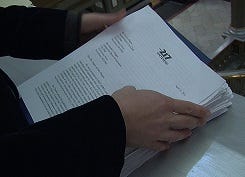 By: Dee DeQuattro
Email: ddequattro@abc6.com
Twitter: @deedequattro
One thousand signatures on a petition were delivered to the Providence City Council Friday morning.
Local hotel workers are calling for an increase in the minimum wage to $15.00 an hour.
If the thousand signatures are certified, the city council will have to vote on the issue within 70 days.
If the council rejects it, the hotel workers can come back with a petition including the signatures of 5% of the voter population, roughly 5,000 vote. If this happens then it would become a ballot question in November.
Currently, minimum wage is set at $8.00 an hour.
(C) WLNE-TV 2014