Bridge authority OKs hike of 10-cent Sakonnet toll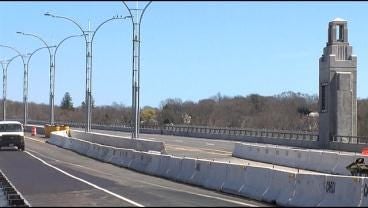 By The Associated Press
PROVIDENCE, R.I. (WLNE/AP) _ Rhode Island's bridge authority has approved hiking the Sakonnet Bridge toll in May and raising the Newport Bridge toll instead if the legislature blocks any increase on the Sakonnet.
The authority's action Wednesday came after key legislative panels endorsed pushing back the date at which it may hike the 10-cent toll from April 1 to May 15.
Authority Chairman David Darlington said the Sakonnet toll will be 50 cents with an in-state E-ZPass and $3.75 for others beginning May 16.
Drivers are not happy about the change.
"It's not about the money, it's the idea of what they are doing with it that's upsetting me," said Skip Grinnell, Portsmouth.
"I guess if it's gonna go to $3.75 that's a big dip, that's $37.50 a week," said John Kennedy, Swansea.
Portsmouth Publick House co-owner George Doumaney is worried about the toll's impact on business.
"When customers are coming in they were grumbling before when the tolls went up and they were very disappointed and we did feel an effect," said Doumaney.
If the Sakonnet increase is blocked, the Newport toll will climb from 83 cents to $1.04 with an in-state E-ZPass and from $4 to $5 for others.
Lawmakers are considering a bill sponsors say would raise $1 billion for transportation infrastructure over 10 years and prohibit a Sakonnet toll altogether.
"We will not give up until we are successful with this and there is no toll on that bridge," said State Rep. John Edwards.
(C) The Associated Press/WLNE-TV 2014