How an elderly Pawtucket man became social media's grandpa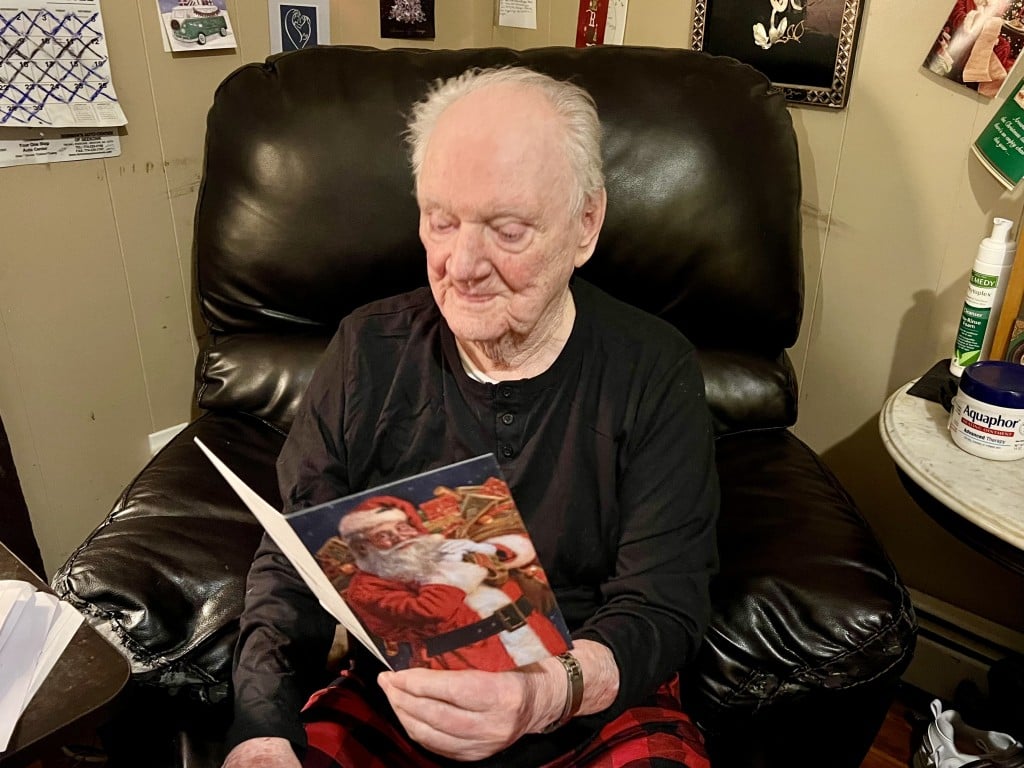 PAWTUCKET, R.I. (WLNE) — Five days ago, the public didn't know who George Dowling was. Now, he's an online sensation.
Holiday cards line the walls of George's home in Pawtucket, after his granddaughter, Charlene Fletcher, posted a photo asking the public to send her grandfather Christmas cards.
George is an elderly man who gets lonely around the holidays after losing his wife. His family tells ABC 6 News they have asked for cards every year since his wife passed away.
On social media, people are calling George "Grandpa George," and sending him kind words and love.
He has received over 500 cards and 30 presents since Nov. 25, and his family is in shock. Suzan Brito, George's daughter, had to hire a woman to help hang up the cards around the house. George likes to read every card he receives, so days can be very busy for Suzan and her father.
ABC 6 visited Grandpa George to find out what he thinks about going viral.
"I couldn't believe it," George said when asked about the cards that fill the walls in his home.
George's family said that he loves Christmas, and when he was asked why, he said, "People are happy and joyful, and giving stuff, especially when they give it to me!"
Although George received many cards, he admitted that he has a favorite. He showed me a white postcard, with a colorful tree colored outside the lines. The card read, "I love you, George. You're my best friend. Nina, age 4."
The Darlington Early Childhood Center delivered a huge card that read, "Happy Holiday George." The students also sent individual cards with personalized messages.
In addition to cards, George received boxers, sugar-free candy, socks, pajamas, and even "fancy" tea from France!
As George sat down with ABC 6, accompanied by his dog Pewee, he shared a message for people around the holidays. "Be happy and be healthy," George said.
Holidays can be a lonely time for people who have lost loved ones, and Brito said having so many people share love both online and in person has made George wake up happy every day.
"He waits for the mailman every morning," said Brito. The mailman visits George's house around four times a day with presents and cards from all over the country.
The number of cards that are delivered can be overwhelming, but George feels the love from everyone who took the time to send him something. "They like me, I'm a hell of a guy you know!" said George.
Holidays are a great time to show others you care for them. If anyone would like to send George a card, his family asks to send them to:
George Dowling
64 Harris Street
Pawtucket, RI 02861
Every morning George wakes up excited to greet another day… and the mailman.
George said goodbye with a "Thank you, thank you, thank you, and Happy Holidays!"