HS students seek to change city transportation policy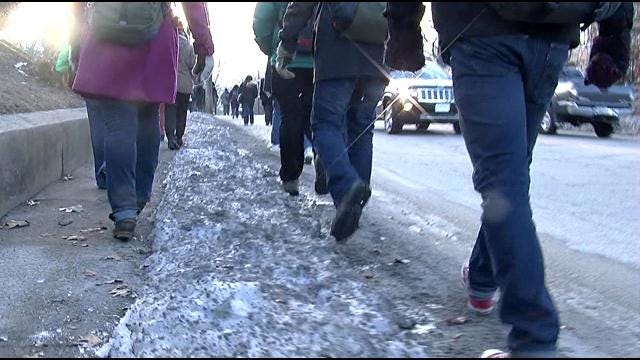 By: Melissa Randall
It was back to school Monday morning for students across the area. A group of Providence High school students took the opportunity to challenge officials to walk in their shoes in an effort to spotlight the cities transportation policy.
Providence high school students are not eligible for a bus pass unless they live over 3 miles away.
"I have 38 tardies, 22 absences and I would always miss my first period so I was actually going to fail that class," said Diane Gonzalez a sophomore who lives two and a half miles from school.
Students who walk say its dangerous especially in the winter.
"A lot of times when there's a lot of snow on the sidewalks that have not been plowed or shoveled correctly I end up having to walk in the street," said Sissy Rossi who also lives just within the 3 mile radius.
On Monday members of the school committee, city council, and RIPTA as well as elected and campaigning officials joined the students on a 2.96 mile march from Phebe Street to Classical High School. In order to make the walk more authentic each of the officials was given a backpack, full of books, to carry.
Providence's policy puts it among the highest walking distances in the region. Some city officials want to it lowered.
"A mile and half. Two miles max, but a mile and a half I'd be comfortable with," said Michael Solomon, City Council President.
Changing the policy could cost millions of dollars, and RIPTA is not currently equipped to transport thousands of additional students.
"We don't have the capacity right away– to just add more buses. We don't have them. So we'd have to figure out and phase it in over time," said Scott Avedisian of RIPTA.
The teens say the walk proved their point. Even with the sun out it took the group more than an hour to get to school. They arrived only moments before the bell.
© WLNE-TV 2014
Follow me on Twitter @MelissaARandall