Huge turnout at New Bedford drive to help hurricane victims in Puerto Rico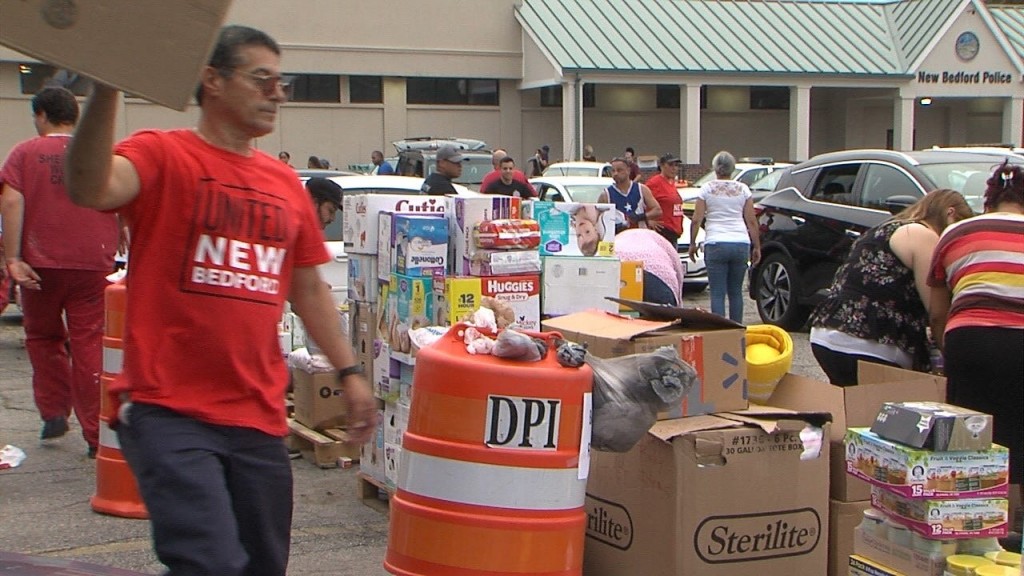 By John Krinjak
Email: jkrinjak@abc6.com
Twitter: @johnkrinjakABC6
NEW BEDFORD, Mass. (WLNE) — A massive collection drive took over the New Bedford Police Department's parking lot Wednesday evening.
Cars were backed up down the street–a long line waiting to help Puerto Rico on its long road back from Hurricane Maria.
"Right now they're devastated and they need us," said Yansie Fontanez.
"As you can see we have an overwhelming outpour of generosity and love from our community," said New Bedford Police Chief Joseph Cordeiro.
Organizations like United New Bedford and local police teamed up up to collect everything from food to baby formula, water to first aid kits.
"Flashlights and batteries, candles, matches, sleeping bags-anything that helps people survive right now," said volunteer Stephanie Chase.
For many with Puerto Rican roots, volunteering here is one of the few ways to feel connected with loved ones back home.
"We have a bunch of people locally that are feeling kind of hopeless because they're disconnected from their family in Puerto Rico, so we felt that we needed to come together," said Edwin Cartagena of United New Bedford.
"I haven't spoken to my family for a long time. It's been over a week. We don't know how they are. But I know in my heart that I'm doing the best I can for my family to be okay over there," said Luz Ortega of United New Bedford.
Pat Gomes made several trips here to donate tonight.
"It breaks my heart. It absolutely breaks my heart," said Gomes.
For her, the reason to give is simple.
"Because those are our people. Those are American citizens. Because they need help and it's up to us to give it," said Gomes.
Organizers expect it'll take about a week to get all these items to Puerto Rico.
We're told they could use some financial help to ship everything down there.
If you'd like to help with that, there's an account set up at New Bedford Credit Union to collect money for shipping costs. You can also call (508) 496-8010.
Additionally, you can donate to relief efforts through New Bedford's website.
©WLNE-TV / ABC6 2017