Hundreds call for racial justice in East Greenwich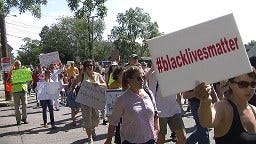 EAST GREENWICH – Hundreds walked through town and called for equality and peace in East Greenwich, Sunday, in the wake of national and local concern over racial injustice.
"It is time for white people to stand up and fight racism," said Rachel Bishop, a member of White Noise Collective Rhode Island.
The peaceful walk was in response to racist flyers posted around town, earlier in the summer. The flyers were found in small plastic bags, weighed down by rocks. They told white people to stand up and defend the existence of the white population, stating: "White people currently make up only 63% of the population in the U.S."
"It was really disturbing and confusing to a lot of people. A lot of people said we don't stand for this. This is an incredible extreme showing of racial hatred," said Bishop.
More than 300 people gathered at the Westminster Unitarian Church. Many held signs stating "Black Lives Matter," a hallmark slogan for the movement. Many marchers told ABC-6 the message was to encourage open conversation about social injustice, especially after hitting so close to home.
"It makes us aware that white supremacy and racism happens everywhere. It's not just on the news, it's right here in our own beloved community," said Amy Crawford, a member of the Westminster Unitarian Church.