Hundreds of first responders to attend birthday party for Burrillville boy today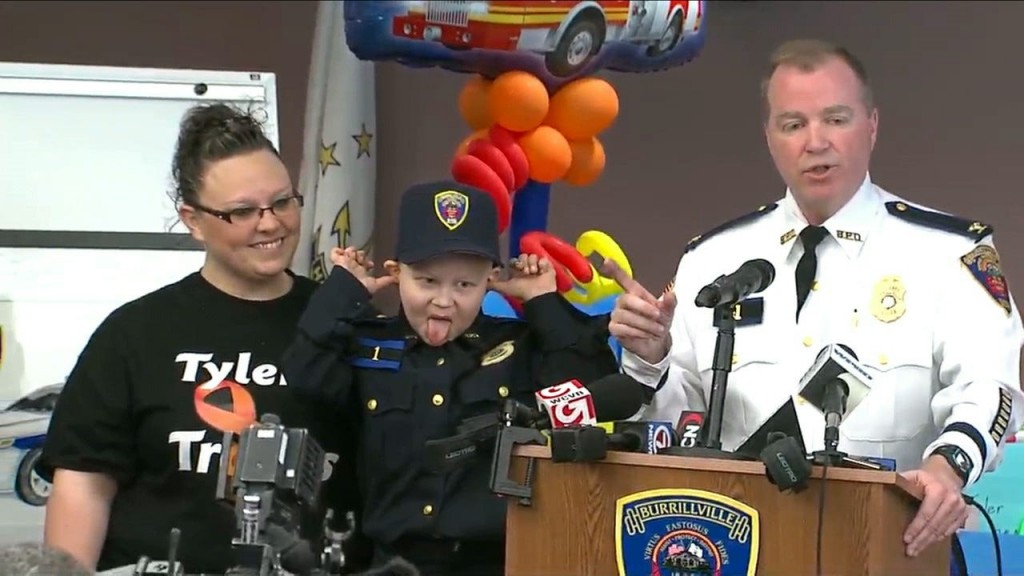 By: Melissa Randall
Police officers from around the country are arriving in Rhode Island. They are ready to give a Burrillville boy battling cancer a birthday he'll never forget.
Tyler Seddon turns seven years old today. What all started as a simple request from his mom has grown into a huge celebration.
Trooper Sgt. Jamey Kidd of Kentucky has never met Seddon, but the little boy's story has melted his heart. Kidd traveled 14–hours to be in Rhode Island for Tyler's birthday bash.
"Like a lot of people I read Tyler's story online, but, it kind of touched me a little more personal having a little boy the same age as Tyler," said Sgt. Kidd.
Tyler is battling leukemia for the second time. Hundreds of his hero's- made up of police, firefighters and first responders from across New England and beyond- are coming together this morning to celebrate the big day.
"His birthday is also my birthday so I couldn't think of a better way to spend my birthday," said John Straseskie, a Virginia Beach firefighter.
Many of "Tyler's Troops" as they are called will arrive with presents in tow. Those who couldn't be here for the party are still sending well wishes by video including one from the L.A.P.D.
The clip begins: "Tyler I'm Charlie Beck– chief of the L.A.P.D. Some of my friends got together and we have a few things to show you."
The party is going to be one like no other. 200 police cars and 100 fire trucks will greet Tyler right after he's sworn in as Burrillville's police chief for the day.
"We're only answering a call for service that a mother asked for she just wanted a simple thing for her child and wants to make every birthday memorable for him," said Craig Sroka of the East Providence Police Dept.
Tyler's story gained national attention after his mom set up a Facebook page asking for birthday cards from first responders.
Tyler's birthday celebration will cause some traffic delays Thursday morning as that convoy heads toward Burrillville. A group of about 250 officers and firefighters will leave East Providence around 9:30am. Two more groups will are heading here from Massachusetts converging on 95 around 8:30.
© WLNE-TV 2014
Follow me on Twitter @MelissaARandall