Hundreds of flags line the way to the start of Bristol parade route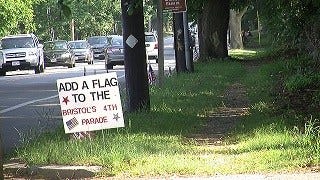 Samantha Lavien
Slavien@abc6.com
Twitter: @samanthalavien
Right beyond the Welcome to Bristol sign, at the Warren border, starts a line of hundreds of flags stretching about two miles to the start of the town's 4th of July parade route.
"I was driving down Hope Street where the Audubon is and there was a sign that looked like it was actually a child's handwriting and it said, 'add a flag to the parade route' and there was like two or three flags there," said Stacia Jackson.
Jackson says she was inspired by the sign and decided to buy 300 flags to contribute to the effort near her kid's elementary school.
"I was hoping that they'd each be able to come out and put their flag in and as they drive by with their parents later be like hey that was my flag," said Jackson.
Jackson's two kids were among the hundred or so students to lay out the flags on the last day of school.
"It was really nice to take part in the celebration that this town is famous for," said Chase Jackson.
"I wanted to do it and I felt happy," said Thea Jackson.
Many people ABC 6 News spoke with said they are very impressed with this idea and they hope that this will continue for years to come.
"I think it's great. You know, I'd like to see it every year. I'd like to see it go all the way down and come all the way back on both sides," said Bob Cairrao.
"I think it is just fantastic and the patriotism in this town is just unmatched," said Zak Guida.
It's still not clear whose idea this all actually was, but many are thankful to whoever thought it up.
©2014 ABC6/WLNE-TV. All Rights Reserved.