Hundreds protest at State House in support of Roe v. Wade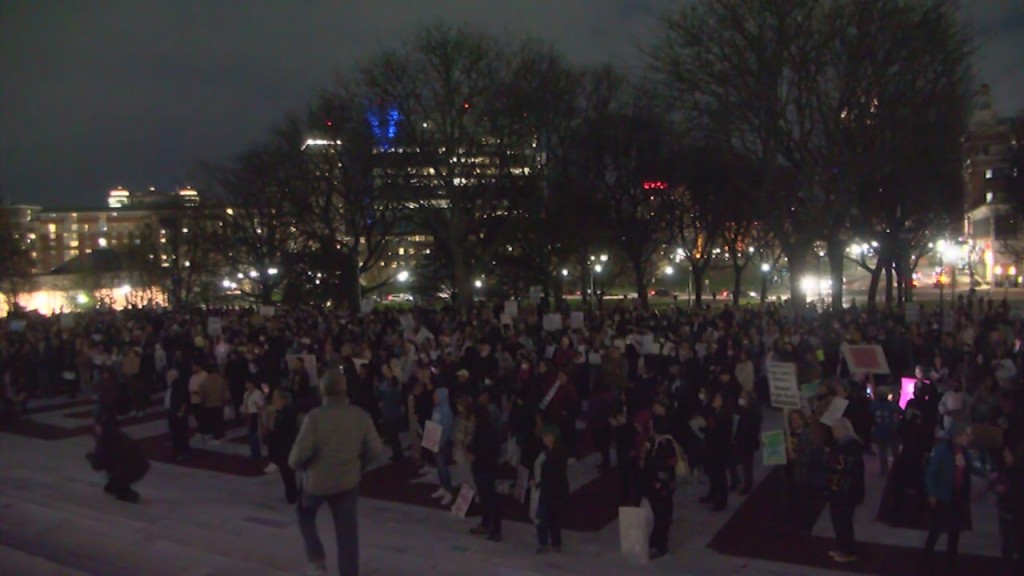 PROVIDENCE, R.I. (WLNE) — Chants of "abortion is health care" surrounded the Rhode Island State House Tuesday night as hundreds swarmed the steps in response to a leaked Supreme Court document revealing lawmakers may seek to overturn Roe v. Wade.
"It's a tragedy," said Rep. Liana Cassar (D-Dist. 66). "It's an indication that the Supreme Court doesn't prioritize women's health."
Throughout the day, protestors trickled on and off of the State House steps. Just before 8 p.m., a larger group of protestors gathered just over an hour as a hot air balloon was inflated on the State House lawn showed images of quotes and political leaders such as Ruth Bader Ginsberg.
"It's ridiculous that this is going back to 50 years ago," said Emma Mariano, a local resident. "I shouldn't have to be here right now."
While the state of Rhode Island codified the legal protections of Roe v. Wade back in 2019, on Tuesday a separate battle for abortion rights raged on inside the State House. The Equality in Abortion Coverage Act, introduced by Cassar and Sen. Bridget Valverde, is on its way to Gov. Dan McKee's desk.
The act would provide coverage for abortions and related costs to an estimated 30,000 in the state who fall under Medicare or state health insurance.
"The average cost of abortion care in Rhode Island is around $600. Which for some people might not be that big of a deal but for a lot of people, coming up with $600 for a medical procedure that needs to be done in a timely fashion is a real burden," said Valverde (D-Dist. 35).
Currently, abortions are not covered under the two health plans.
"It's important of course to protect access to abortion in the law as a right. It's also important to make sure that patients can access it equitably," says Ben Brown, assistant clinician OB/GYN at Women & Infants Hospital &Brown University prior to his speech addressing the crowds.
"People think that abortions are gonna stop. They're never gonna stop. People are going to keep dying," said Jennifer Rourke, board member of The Womens' Project, who helped organize the evening's protest.