Hundreds rally in Providence to support man injured in officer-involved moped crash
A tense scene emerges as protesters clash with police; 14 arrests reported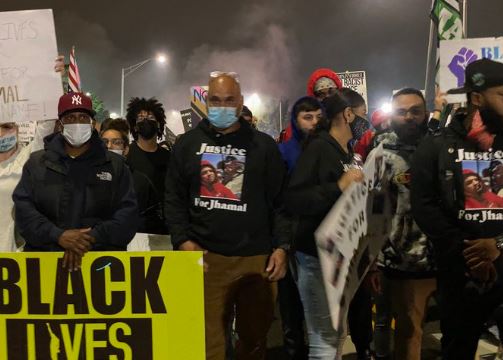 PROVIDENCE, R.I. (WLNE)– A rally in support of Jhamal Gonsalves, the man injured in a police involved moped accident on Sunday, drew hundreds to the streets of Providence on Tuesday night.
The rally began outside of the Knight Memorial Library on Elmwood Avenue around 6 p.m.
Representatives of Black Lives Matter Rhode Island and other activist groups spoke alongside members of Gonsalves' family.
Family members led a march of hundreds down Elmwood Ave.
Demonstrators later surrounded the Providence Safety Complex in a scene that grew more tense as time passed.
Towards 9 p.m., a number of protesters left the scene, but some that remained shouted taunts at police officers.
Bottles and other projectiles were hurled at police.
The scene had grown more chaotic, as protesters grew more confrontational. Several fireworks were set off in close proximity to both police and protesters.
At least one man was arrested on Westminster Street after police began to advance on protesters.
Police have said 14 individuals were arrested, and one police officer is reported as injured.
The confrontation continued in the area of Classical and Central high schools.
A tense standoff developed on Broad Street, where police appeared to deploy some type of chemical agent.
Mark Gonsalves, the father of Jamal Gonsalves, had earlier urged protesters to remain nonviolent.
He repeated those concerns to ABC6 in statement tonight, saying that he didn't want his son's name used in support of violence.
"I want a protest to be scheduled during the daytime, at the attorney general's office, so the officer can be arrested," Gonsalves said. "So an indictment can be made, and a warrant can be issued, and the officer can be arrested."
This is is a developing news story; ABC6 will update as more information becomes known.
©WLNE-Tv/ABC6 2020