More than 100 sign up to speak at first gun control hearing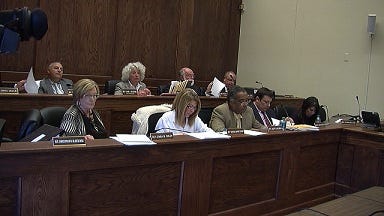 By: Samantha Lavien
Twitter: @samanthalavien
Hundreds packed into the State House Tuesday night for the first public hearing on gun control.
Fifteen bills are up for consideration and more than 150 people signed up to speak at the hours long hearing.
"I've given everything this country has ever asked me to do short of my life my friends have lost lives the fact that I get turned into a felon with the stroke of a pen I don't think that's right," said one of the men who testified.
"I'm here to tell you that we clergy don't work in ivory towers we conduct the funerals of the men women and children who lose their lives to violence," said a rabbi who testified.
There were so many people at the meeting that several overflow rooms had to be set up.
One of the most controversial proposals up for discussion was about regulations on assault weapons
"The cost is Aurora, the cost is Virginia Tech, the cost is Columbine, the cost is Fort Hood, the cost is Tucson, and the cost is 44 to 50 mass shootings Sandy Hook. The benefits of these firearms are nil," said Jerry Belair the President of the Rhode Island Coalition Against Gun Violence.
"The national assault weapons ban had very bad results, the gun free zone act of 1994 and the Connecticut assault weapons ban in place since 1993 did not stop Adam Lanza in fact it enabled him to kill without any resistance," said Rodney Santos with the Second Amendment Coalition.
The gun legislation will now be sent over to the Senate for them to begin the process there and then will eventually be voted on by both the House and the Senate.
(c) WLNE-TV 2014