Hunting community mourns duck hunters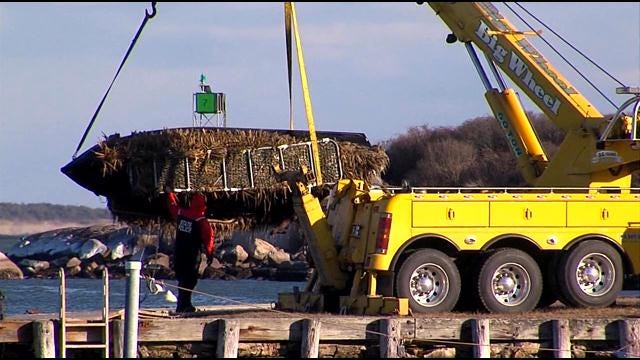 Nicole Gerber
@nicolegerber
Frostbitten on his fingers and knees, and still in shock…51 year old Gregg Angell is alive and recovering, currently in fair condition.
The local doctor is the lone survivor of a duck hunting
accident on the Westport River that killed his two friends visiting from Marshfield and Connecticut yesterday.
His wife says he was in a fetal position trying to get the
attention of the Coast Guard rescue helicopter.
His body temperature was 80-degrees and he told his wife he
doesn't know why the boat capsized.
The local hunting community is stunned.
"It's very emotional. It's almost like losing someone in your
family," said Lou Othote, local Chapter Head of the group Ducks Unlimited.
He has been an avid local duck hunter for 60 years. He says that although temperatures were at extreme lows and
winds were strong yesterday on the Westport River, those conditions were perfect for duck hunting.
"It moves the birds around, pushes them from one place to
another. It freezes up lakes and when the lakes freeze the birds go…. You
wake up in the morning and you live for mornings like that," he said.
Even in light of everything that's happened those who were
expecting to still go out for this weekend's final weekend of the regular duck
hunting season more than likely will still go.
"They won't stop. I think it'll make people think more, and
I'd like to see, as a community, that we share a little bit of that," said Othote.
The Coast Guard is urging boaters and hunters to be extra
cautious when going outside in extreme conditions. Wear a life jacket, invest in a dry–suit, and let friends and family know when and where you're going
out.
(c) WLNE-TV 2014