Hurricane Sandy Update, Monday 8AM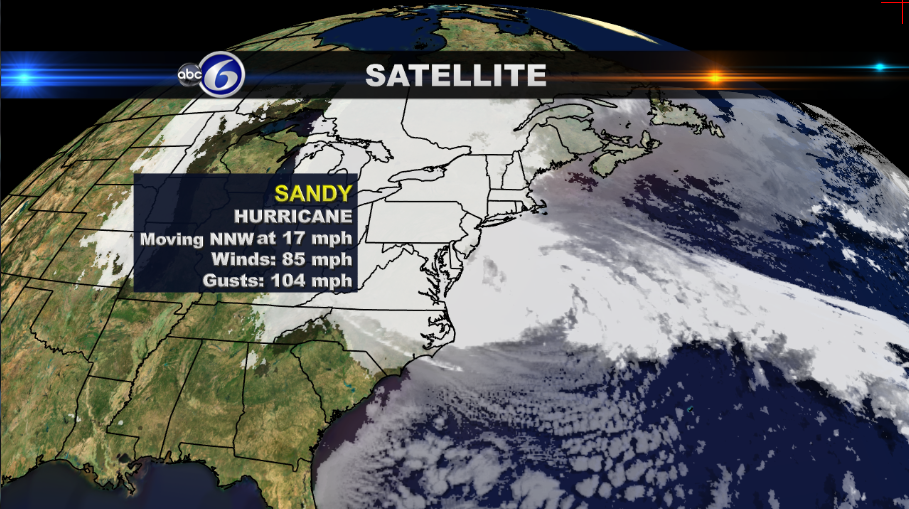 Sandy is still a Category 1 hurricane with a minimum pressure of 946mb. The storm has sped up a bit and is also beginning to move further north. Currently tracking NNW at 20mph. The center of Sandy will move over the coast of the mid-Atlantic states this evening into tonight. Sustained maximum wind speeds have been at 85mph with gusts over 100mph. Sandy's effects can be felt hundreds of miles away from it's center.
This is what we can expect here in Souther New England:
A HIGH WIND WARNING is in effect for the entire ABC6 viewing area. The strongest of the winds are likely late this morning into late Monday evening. Expect the wind to be coming in from the east at 35-50 mph with gusts up to or even over 70mph especially along the coast. The wind will become more southeasterly during the afternoon/evening. The damaging winds will likely cause widespread power outages.
Also, a COASTAL FLOOD WARNING has been issued for the entire Rhode Island coastline including Block Island and south coastal Massachusetts. A 3 to 6 foot storm surge will result in moderate to major flooding even into Narragansett Bay. Destructive waves are possible as we move through this afternoon and into Tuesday. The worst of the flooding will occur tonight near the astronomical high tide. (In Newport at 8:23PM, for reference.) The National Weather Service states that this is the most serious coastal flood threat in years for much of coastal RI and south coastal MA. Roads may become impassible leaving some neighborhoods isolated.
Due to adverse weather conditions, the RI Public
Transit Authority will phase out its service today. Service in low-lying areas
will be affected at first, with all RIPTA service ending by 12 noon today.