Hurricane Sandy Update, Sunday 6PM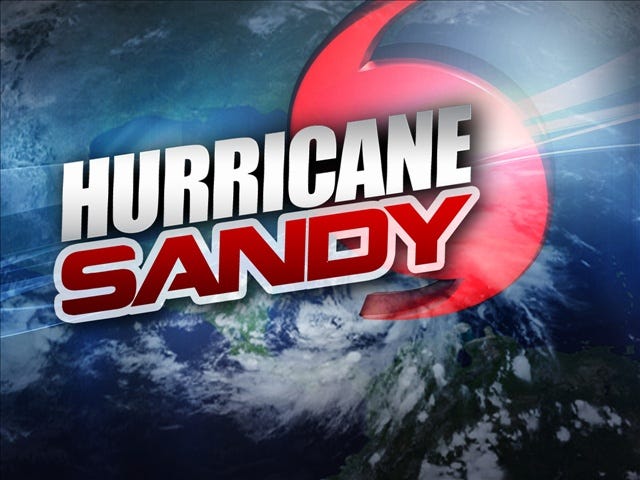 Sandy is still moving parallel to the eastern seaboard, NE at 15mph. Sustained winds are a 75mph and a central minimum pressure at 952mb.
Continuing to expect the two biggest concerns with high wind gusts and coastal flooding.
Breaking down the next 48 hours for wind speeds, by early tomorrow morning sustained winds of 20mph will be likely in Rhode Island and sustained winds of 30+mph on the Cape and Islands. By Monday afternoon sustained winds from the east will kick up. Inland areas will see 30-40mph sustained winds. Coastal areas may see sustained winds Monday afternoon 40-50mph. The high sustained wind continues Monday night with 50+mph possible on coast. Keep in mind gusts during this time may be over 70mph into Monday night. Waking up Tuesday morning the wind will have calmed a bit but still sustained between 30-40mph, gradually through the day the wind will continue to die down. Of course all this means that widespread and potentially prolonged power outages are possible and a high wind warning is in effect for the entire viewing area from early Monday through early Tuesday.
Also, a coastal flood warning has been issued for the entire Rhode Island coastline including Block Island and south coastal Massachusetts. A 2-5 foot storm surge will result in moderate to major flooding even into Narragansett Bay. Destructive waves are possible as we move through Monday and into Tuesday. The worst of the flooding will occur Monday evening near the astronomical high tide. (In Newport at 8:23PM, for reference.) The National Weather Service states that this is the most serious coastal flood threat in years for much of coastal RI and south coastal MA. People need to have their preparations done today. Vulnerable areas need to be extra prepared and cautious. Roads may become impassible leaving some neighborhoods isolated.