Hurricane Sandy Update, Monday 11AM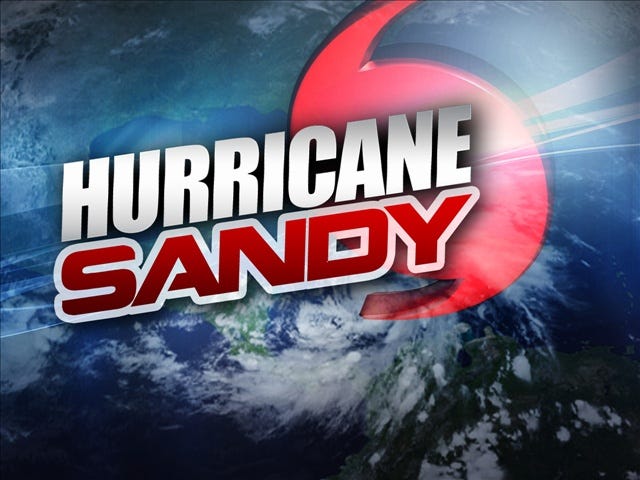 The most recent update on Sandy from the National Hurricane Center has Sandy continuing to intensify. The minimum pressure is down to 943mb. Sustained winds are at 90mph with gusts over 100mph. The storm is continuing to move along pretty quickly, moving NNW at 18mph. Within the next few hours, Sandy will be taking a turn more towards the west and will make landfall sometime before or near midnight along the NJ coastline.
The effects of Sandy are being felt hundreds of miles outside of the center. High winds have been experienced all morning with our highest gust so far on the Vineyard at 51mph. Some coastal flooding reports have come in from our early high tide around 8:00AM. Expect at least double what we saw at 8:00AM to occur with this evening high tide around 8:30PM.
Watches/Warnings
HIGH WIND WARNING IN EFFECT FROM 6AM TODAY UNTIL 6AM TUESDAY
COASTAL FLOOD WARNING FROM 6AM TODAY THROUGH 1PM TUESDAY
RAIN FROM SANDY WILL BEGIN TO INCREASE THIS AFTERNOON AND WINDS ALONG THE COASTARE NOW 30-40MPH.SHOWERY RAIN AND WINDS 25-45 WILL BE HERE THIS LATER THIS AFTERNOON. DURING LATE THIS AFTERNOON,SHOWERY RAIN WILL CONTINUE WITH SOME TROPICAL DOWNPOURS..WINDS WILL BEGIN TO INCREASE TO 30-50 ESPECIALLY ALONG THE COAST . BY THIS EVENING WINDS ESPECIALLY ALONG THE COAST WILL BE 40-60 WITH GUSTS TO 75MPH ..LATER TONIGHT AROUND 8PM TO 10 PM ,SANDY WILL MAKE LANDFALL CLOSE TO SOUTH JERSEY. THE WORST OF THE WIND DAMAGE WILL BE THIS AFTERNOON INTO EARLY TONIGHT WHERE WINDS WILL BE 40-60 WITH GUSTS ESPECIALLY ALONG THE SOUTH COAST TO 75 MPH…
…
TOTAL RAIN FALL AMOUNT ON THE ORDER OF 2-5 INCHES POSSIBLE SOME LOCAL FLOODING LIKELY
MODERATE TO SEVER BEACH EROSION LIKELY
TIDES WILL RUN 3-6 FT. ABOVE NORMAL DURING THE TIMES OF HIGH TIDE TONIGHT AROUND 8PM . STORM SURGE ALONG THE COAST WILL BE MODERATE
WAVES OFF SHORE 25-35FT.
DOWNED TREE BRANCHES AND SOME TREES CAN BE EXPECTED THIS AFTERNOON THROUGH LATE TONIGHT..
SHOWERY RAIN WILL CONTINUE EARLY WEDNESDAY WITH STILL SOME WIND GUSTS TO 30 MPH… ABC6.COM METEOROLOGIST STEVE CASCIONE & ABC6 METEOROLOGIST CHELSEA PRIEST