Husband and Wife Shine at Rhode Race Marathon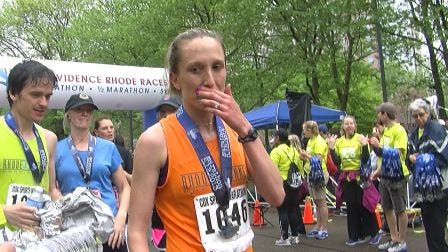 By Matt Blanchette
Katie Moulton won the women's marathon nd her husband, Patrick, finished second in the men's.
Her time was 2:53:47, and it was her first marathon.
The two met while running track at PC.
Mizael Carrera of Illinois coasts in as the winner of the Rhode Race half marathon Sunday in downtown Providence.
His time is 1:50: 56.
The women's half winner is Amanda Kourtz, of Raynham, who is a professional triathlete, in 2:05:50.