'I will never forget it'; Rishod Gore accuses Providence Police of smashing his face into concrete, kneeling on neck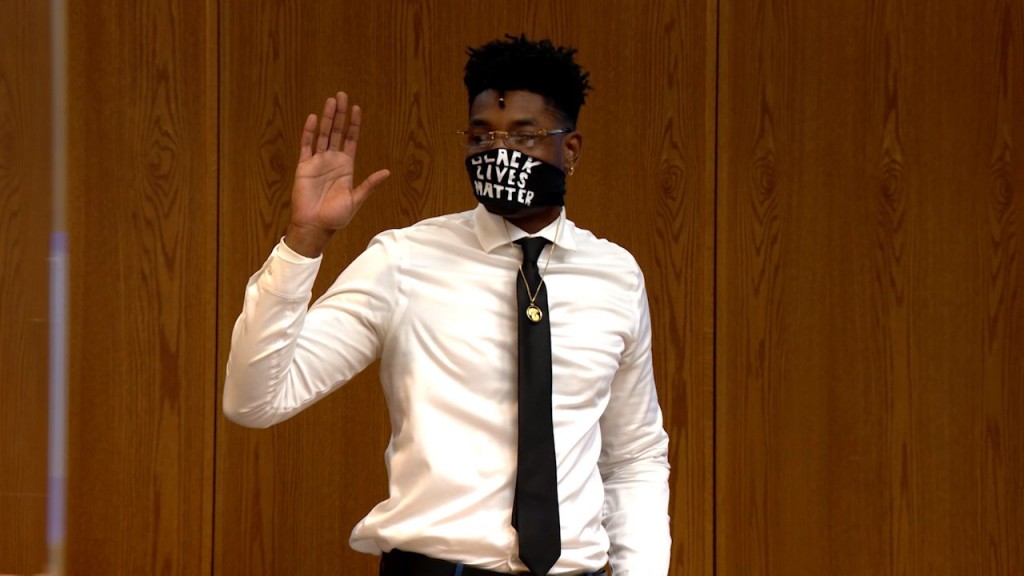 PROVIDENCE, R.I (WLNE) – In court on Thursday, Rishod Gore testified what he says happened when Sgt. Joseph Hanley allegedly smushed his face into the concrete and kneeled on his neck during an arrest in April of 2020.
Gore testified against Sgt. Hanley- sitting just feet away- in a contentious 7 hours in a Providence District Court room.
"By Grace of God, had I made any sporadic movements there's no telling how this would have ended."
Gore testified on that night in 2020, Sgt. Hanley walked up to his parked car without warning, pulled him from the passenger's seat on to the ground, kicked him in the face with his boot and kneeled on his neck.
"This man right here put his knee on my head and shimmied and tried to get rid of me like an ant, like an animal," Gore testified against Hanley on Thursday.
Prosecution showed body camera footage and video from bystanders, capturing the moments that Hanley and two other Providence police officers approached Gore in the parked car, then physically removing him onto the concrete pavement.
Gore says he was never verbally instructed by police that they wanted him to get out of the car, never mind the fact he did not know what he was under arrest for.
Michael Colucci, Hanley's defense attorney, remained on the argument that Gore was resisting arrest that night in April- adding in Rhode Island it's illegal to resist arrest, even if you do not know what you are being detained for.
"I was not going to die throwing a punch at a police officer in a manic state," Gore says.
The defense team even questioning whether Gore had a bias towards police before this encounter in April 2020, pointing to his 22 previous offenses on his record.
"You're wearing a Black Lives Matter mask in this courtroom, and they stand for anti-police, defunding police or obliterating police if they could," Colucci argued.
Rishod Gore responding that he does not agree and every crime he committed, he did the time for "rightfully so."
Gore will take the stand for a second day on Friday as cross examination will continue. Defense says they plan to call Hanley to the stand after the prosecution rests.