Ice Safety concerns with up and down temperatures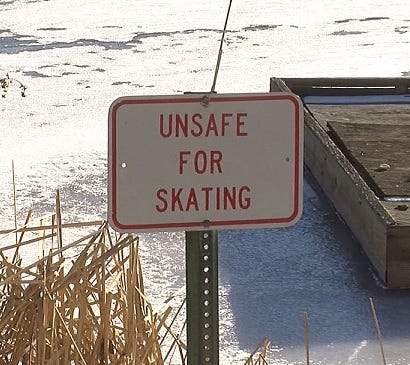 By: Chelsea Priest
Over the past few days, temperatures have stayed well below freezing which has given many local lakes the opportunity to freeze over. Many people have taken advantage of the thicker ice to skate, ice fish, and even ice sail, but with temperatures continuing to fluctuate, ice safety becomes a big concern.
The RI DEM tests the ice at 3 local lakes generally once a day. John Faltus, Deputy Chief of the DEM Parks and Recreation Department explains, "Ponds don't flash freeze. There are various factors that effect the rate at which the ice freezes due to exposure to the wind, the sun, you may have a run off."
Even with the below average temperatures we have been seeing, they have yet to make the call that the three lakes the monitor, (Lincoln Woods State Park, Meshanicut State Park, and Goddard Memorial State Park) are safe to be on.
That hasn't stopped ice fishermen, who generally stay pretty close to shore. Frank Zahn is an ice boater. He usually checks the DEM site and with the people fishing the lakes before he heads out. He says, "A lot of times they'll tell me where there is water on the ice or if there is open ice and I don't go near that stuff, not at 73 years old!"
Different parts of every lake freeze at different rates. Some areas of a lake could have 6+ inches while other parts of the same lake still have open water.
With a warm up heading our way this weekend, there' a big concern about people planning to head out on the ice.
You can monitor the lakes the DEM tests by following this link: www.riparks.com or by calling 401-667-6200