Icy & Slippery Overnight
Another Chance For Snow Sunday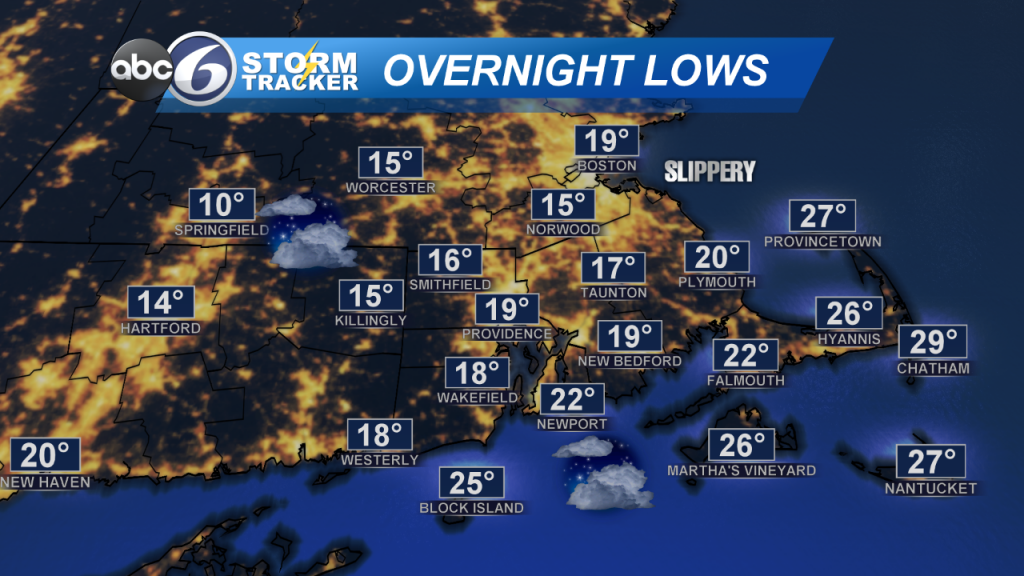 Clearing, cold and icy overnight. Teens.
Sunshine for Wednesday and cold. Low to mid 30s. Sun will melt some of the snow and at night, temps into the teens. Another black ice scenario expected.
Thursday, storm close, but some sun and only a few flurries. Around 30°. Frigid at night, around 10° with a few clouds.
Friday, a mix of sun and clouds. Still cold upper 20s. Friday night, a few clouds and frigid. Around 10°.
Saturday, mostly sunny. Low 30s. Saturday night, increasing clouds. Mid to upper teens.
Sunday, storm will track into the area and the track will play a big part in precipitation type. For now, left it as a rain and snow mix. Stay tuned for more updates, storm chance is still 5 days out. Temps, dependent on storm track. Rain track, we go upper 30s. Snow track, upper 20s.
Monday and Tuesday, sunny and blustery. 20s Monday, 30s Tuesday, overnight lows in the teens.
ABC6 Chief Metoerologist, Jeff Desnoyers
Email: jdesnoyers@abc6.com