In wake of speaker resignation, Block calls for government reform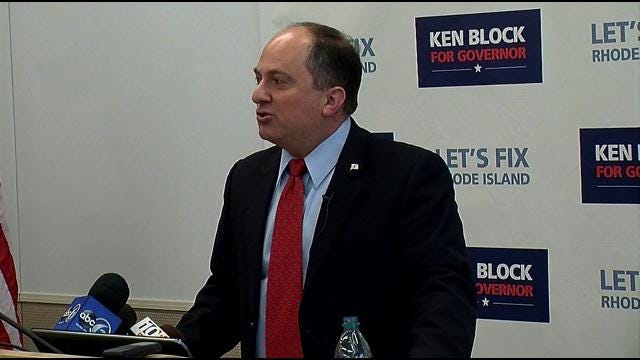 By: Dee DeQuattro
Twitter: @deedequattro
Email: ddequattro@abc6.com
Hours before a new house speaker is set to be elected Ken Block has issued a statement calling for government reform in Rhode Island.
Block, a Republican candidate for government, said "when the Speaker, one of the most powerful elected officials in our state, resigns after Federal and State law enforcement raid his office and home, it is the clearest and most urgent message that Rhode Island's government is broken."
Block called for government reform including abolishing the master lever, strengthening the ethics commission and create the line-item veto.
Block said as governor he would be an agent for change unlike some of his opponents who he described as insiders.
"There are insiders and career politicians running for governor that are products of the current system, such as Treasurer Raimondo, Mayor Fung, and Mayor Taveras who have supported Speaker Fox financially and politically, who will let the deal making and corruption in the General Assembly return to the shadows and continue in back rooms," said Block.
Block's Republican opponent Allan Fung will hold a press conference at 3:30 p.m. today to call for government reform.
Fung's campaign responded to the remarks made by Block. "First, the Mayor was the only gubernatorial candidate to call for the Speaker's resignation. Apparently Mr. Block did not have courage to do it…Mayor Fung did. It is abundantly clear that Mr. Block is only following in his footsteps. He has borrowed from our platform, borrowed from our good government initiatives, and just today called to reject the pension settlement, six weeks after Mayor Fung's op-ed. Mr. Block should focus his energy on developing his own ideas instead of attacking Mayor Fung," said Campaign Spokesperson Patrick Sweeney.
(C) WLNE-TV 2014