Increasing Clouds Tonight
Showers Saturday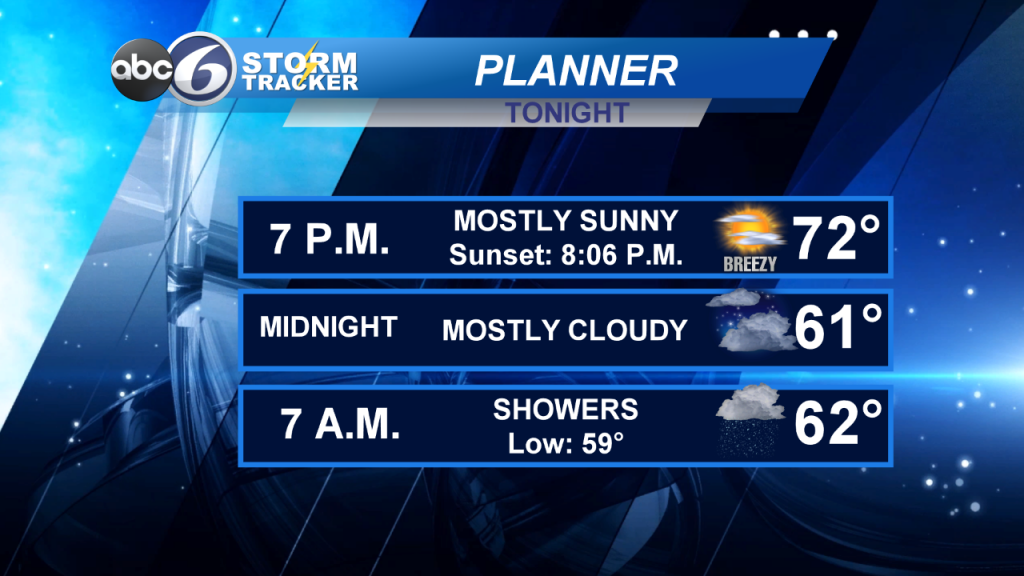 Increasing clouds tonight, upper 50s. A few showers by daybreak.
Saturday, scattered showers. Not an all day rain event at all, highest chance for showers will be for coastal locations. Temps in the mid 60s by noon, dropping into the 50s by evening. Saturday night, partly cloudy. Mid 40s.
Sunday, sunny and nice. Mid-60s. Sunday night, a few clouds. Mid 40s.
Memorial Day, mostly sunny. Around 70°. Monday night, partly cloudy. Around 50°.
Tuesday, a mix of sun and clouds. Mid 70s. Tuesday night, mid to upper 50s with a few clouds.
Wednesday and Thursday, partly sunny, warm and humid. Locations away from the coast well into the 80s, 70s at the beaches.
Friday, partly sunny. 80° inland, 70° beaches.
ABC6 Stormtracker, Jeff Desnoyers
Email: jdesnoyers@abc6.com