Independent Lincoln Chafee Declared Winner for Governor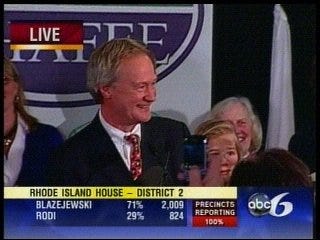 Independent candidate Lincoln Chafee is now Rhode Island's Governor-elect, having defeated six other opponents, including Republican John Robitaille, and Democrat Frank Caprio.
Chafee finished the night with 36% of the vote, with an approximate 8,000 vote lead of John Robitaille, with 34% of the vote.
Frank Caprio finished with 23% of the vote. Moderate Party candidate Ken Block won 6% of the vote.