Indians Homer Three Times To Win Series Opener Over PawSox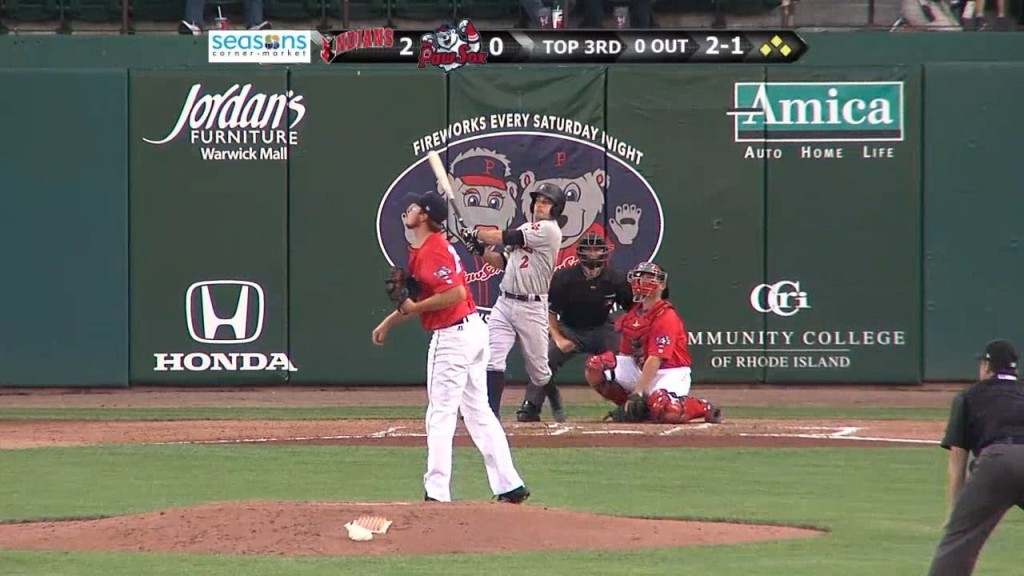 Pawtucket Red Sox Press Release
PAWTUCKET, R.I. — A night after they drilled three home runs themselves, the Pawtucket Red Sox allowed three long balls to the Indianapolis Indians and dropped the series opener 8-1 on Friday night at McCoy Stadium.
Indianapolis (31-27) scored two runs in the second inning and four more in the third to claim the series opener with the PawSox (27-31).
Rehabbing Red Sox reliever Tyler Thornburg made the second appearance of his second rehab assignment and worked a scoreless sixth inning on 16 pitches (11 strikes). Thornburg threw 10 fastballs, all of which were clocked between 92 and 95 MPH. The right-hander induced a gentle comebacker to the mound, allowed a line-drive single back through the box and generated a pair of flyouts to end his evening.
Pawtucket right fielder Cole Sturgeon (3-for-4) notched his first career three-hit game at the Triple-A level, and center fielder Rusney Castillo (2-for-3, 2B, RBI, BB) extended his International League-leading hit total to 72. Headlined by a five-hit game Tuesday, Castillo has now pounded out 13 hits — including six extra-base hits — in his last five games.
Recently-promoted Pawtucket starter Teddy Stankiewicz (L, 0-1) made his Triple-A debut and allowed six runs on seven hits and three walks in two-plus innings. From there, right-hander Fernando Rodriguez Jr. stabilized the ballgame with three innings of one-run ball. Southpaw Bobby Poyner gave up a leadoff home run in the seventh but got the next six outs without allowing more damage. Righty Kyle Martin cruised through a clean ninth inning.
Indianapolis starter Clay Holmes (W, 4-3) spun six sharp innings of one-run work in which he fanned seven and worked around six hits and a pair of walks.
Indianapolis grabbed two runs in the top of the second inning on an RBI single floated into shallow right field and a sacrifice fly.
The Indians then loaded the bases with nobody out in the top of the third inning, and shortstop Max Moroff hammered a no-doubt grand slam over the bullpen in right field to balloon the lead to 6-0.
Indians second baseman Kevin Kramer led off the fourth inning by drilling a solo homer to right-center to stretch the advantage to 7-0.
Pawtucket loaded the bases with two outs in the bottom of the fifth inning, and Castillo coaxed a bases-loaded walk to score third baseman Jordan Betts and trim the deficit to 7-1.
Indians catcher Jacob Stallings greeted Poyner in the seventh by pulling a solo homer to left-center — just over the fence.
The PawSox continue their three-game series with Indianapolis on Saturday at 6:15 p.m. Pawtucket right-hander Josh Smith (recently signed by the Red Sox) is scheduled to oppose Indians righty Tyler Eppler (5-2, 3.12). The game will be televised live on myRITV, and radio coverage on WHJJ (920 AM and 104.7 FM) and throughout the PawSox Radio Network begins with PawSox Insider at 4:45 p.m.
The six-game homestand runs through Sunday. Good seats are available, and fans can visit the McCoy Stadium box office, which is open Monday-Friday from 10 a.m. through 5 p.m., and during all home games. Fans can also call (401) 724-7300 or log on to PawSox.com for tickets.