Inmate attempts to attack ACI guard with razor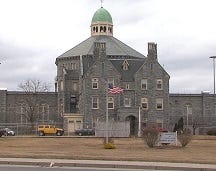 By: Dee DeQuattro
Email: ddequattro@abc6.com
Twitter: @deedequattro
Another violent incident at the ACI over the weekend.
On Saturday an inmate at the maximum security prison was retuning from the yard when he took a swing at a correctional officer.
The inmate missed but then lunged at the officer with a razor blade. He missed the officer and guards sprayed him with pepper spray.
This incident after the Correctional Officers Union has put out several warnings to members regarding increasing violence in the prison.
The Rhode Island Department of Corrections issued the following statement regarding the incident:
"The detection
of contraband and the maintenance of order among the inmate population is a
regular part of a correctional officer's job. The incident that occurred this
past weekend demonstrated that correctional officers do this job well, as they
have been trained to do. We believe that an increase in reporting of these
incidents to the media is leading to the impression that more violence is
occurring at the ACI, but we track violent incidents closely and in fact have
not seen an increase."
(C) WLNE-TV 2014