Investigators still trying to determine the cause of a fatal plane crash in New Bedford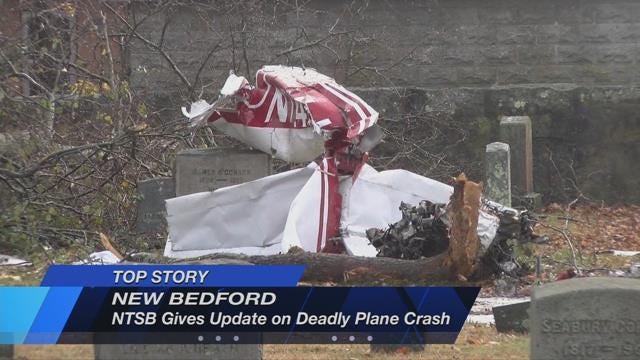 Email: BTaylor@abc6.com
Twitter: BTaylorABC6.com
NEW BEDFORD, Mass. (WLNE): Investigators will continue to gather evidence at the Rural Cemetery in New Bedford for the next 2 days to determine what caused a fatal plane crash.
The Cessna 150 took off from New Bedford Regional Airport at 2:50 p.m. and crashed around 3:30 p.m. Monday.
The pilot, identified by his family as Paul Vidal of Westport, Massachusets died. According to records, Vidal, a professor at Community College of Rhode Island, received his private pilot license in 2010.
Yes, this is our statement from Vice President of Academic Affairs Rosemary Costigan: "We are deeply saddened by the sudden passing of Professor Paul Vidal. He was a valued member of the CCRI community and is fondly remembered as a teacher who left a lasting impact in and out of the classroom. Our condolences are with his family at this time."
"We have seen videos and read witness statements that reported the airplane doing aerobatic maneuvers prior to the accident," Lynn Spencer, the lead investigator with the National Transportation Safety Board said. "We would urge caution in using that word because sometimes when things go wrong it may look like someone is doing that intentionally when they are not."
The examination will include an examination of the airplane, the engine, the weather conditions, the pilot qualifications, and any operational or human factors, Spener said.
Vidal spent 10-15 minutes pre-flight check, which is standard according to Spencer.
Vidal would have been in contact with air control before takeoff, mandatory for pilots flying out of the New Bedford Regional Airport which is controlled.
It is not clear if Vidal contacted air control again before the crash.
"One of the parts of the investigation is to obtain transcripts of the air traffic control conversation," Spencer said."
A preliminary report will be issued in about 10 days. The final report will be done in about 18 to 24 months.
©WLNE-ABC6/ 2019