Italy wins EURO 2020, defeats England in penalty shootout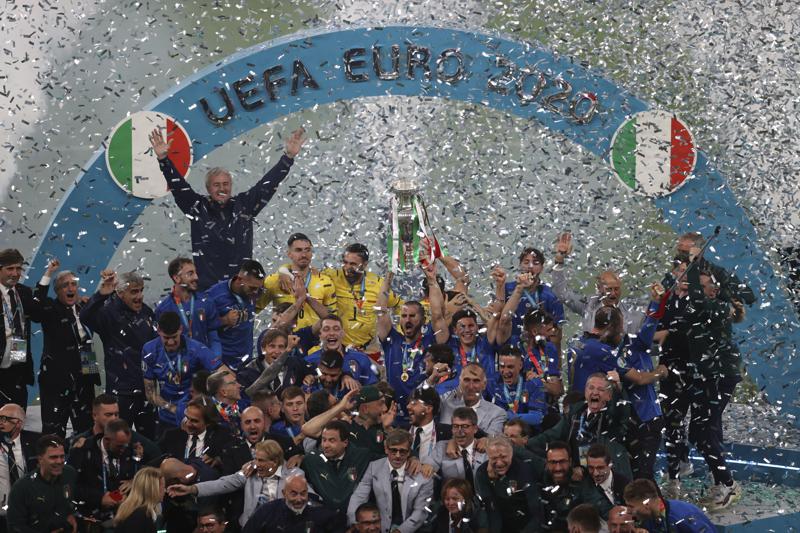 LONDON (AP) — Italian soccer's redemption story is complete. England's painful half-century wait for a major title goes on.
And it just had to be because of a penalty shootout.
Italy won the European Championship for the second time by beating England 3-2 on penalties on Sunday. The match finished 1-1 after extra time at Wembley Stadium, which was filled mostly with English fans hoping to celebrate the team's first international trophy since the 1966 World Cup.
"It's coming to Rome. It's coming to Rome," Italy defender Leonardo Bonucci shouted into a TV camera amid the celebrations, mocking the famous lyric "it's coming home" from the England team's anthem.
For England, it was utter dejection again — they know the feeling so well when it comes to penalties — after Gianluigi Donnarumma, Italy's imposing goalkeeper, dived to his left and saved the decisive spot kick by 19-year-old Londoner Bukayo Saka, one of the youngest players in England's squad.
That was England's third straight failure from the penalty spot in the shootout, with Marcus Rashford and Jadon Sancho — players brought on late in extra time seemingly as specialist penalty-takers — also missing.
Then Italy's jubilant players headed to the other end of the field and ran as one, diving to the ground in front of the Italian fans who have witnessed a rebirth of their national team.
It was less than four years ago that Italy plunged to the lowest moment of its soccer history by failing to qualify for the World Cup for the first time in six decades. Now, they are the best team in Europe and on a national-record 34-match unbeaten run under Roberto Mancini, their suave coach who has won an international trophy in his first attempt to add to the country's other European title — in 1968 — and its four World Cups.
Mancini joined his players on the podium as Italy captain Giorgio Chiellini lifted the Henri Delaunay trophy to the backdrop of fireworks and tickertape.