It's nice! Not! Sacha Baron Cohen sues Somerset dispensary for $9 million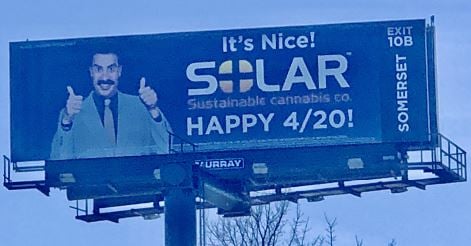 SOMERSET, MASSACHUSETTS (WLNE) – English actor Sacha Baron Cohen, known for his satirical character portrayals is suing a Somerset cannabis dispensary for using his character Borat on their billboard without permission.
The billboard in discussion was used along I-195 in Massachusetts to celebrate the 4/20 Holiday.
On the billboard is a picture of Borat with his trademark thumbs-up pose, and "It's Nice" and "Happy 4/20" written on it.
According to court documents, Solar Therapeutics used his image and likeness of the Borat character without the permission of Baron Cohen.
The lawsuit also says that in using Borat's image, Solar Therapeutics "falsely have conveyed to the public" that Baron Cohen has "endorsed their products and is affiliated with their business."
"For all of the above reasons, cannabis remains a controversial product that Mr. Baron Cohen has no interest in endorsing, promoting, or advertising. He would be appalled if his young children were to discover, mistakenly or otherwise, that he was associated with the promotion of cannabis", said the documents.
Under the claim of relief, Baron Cohen " has suffered, and will continue to suffer damages, in an amount to be proven at trial,
estimated to be at least $9 million. "