"It's unimaginable": Massachusetts women at Ukraine border arrive at refugee camp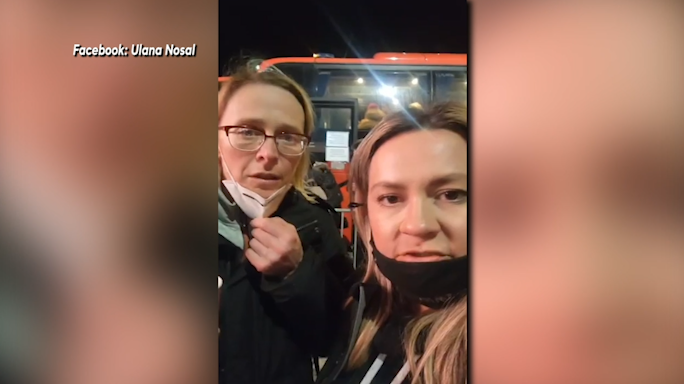 PROVIDENCE, R.I. (WLNE) – As the conflict in Ukraine continues, people from all over are stepping up to help, including right here at home.
Two Massachusetts women from North Attleboro and Walpole traveled to the Ukraine border earlier this week to deliver medical supplies and help refugees find a home.
The women, Ulana Nosal and Terry Reid, posted a Facebook live update of their journey as they arrived at the refugee center Thursday.
"It's completely horrible, unfair, and unjust, but it must be shared so people know what the sad, sad country is going through right now," Nosal said. "It's incredible to see food, the helpers, and volunteers. It's all volunteers from all over the world."
The two women say the shelter is completely full and families are traveling through horrible conditions, many sleeping on cots on the floor. Outside, there is a line of buses, each traveling to different cities and taking refugees away from the war-torn region.
Nosal and Reid will soon deliver the six bags of supplies they brought with them. They then plan to stay and help relocate Ukrainians.
"This is pretty overwhelming. You see if on the news, but when you're here… it's unimaginable," Reid said.
"No one – no child should be living like this. Even temporarily," Nosal said.
Meanwhile, here at home, people are stepping up to help, too.
Cardi's Furniture and Mattresses is holding a Ukraine Aid drive this coming weekend, along with the help of Arpin International Group, Liberty Moving & Storage, and Rhody Transportation & Warehousing.
The fundraiser will be on Saturday, March 12 2022, 8am-2pm at the following (3) locations:
Cardi's Furniture & Mattresses, 1681 Quaker Ln. (Rt. 2), West Warwick, RI 02893
Cardi's Furniture & Mattresses, 1 Furniture Way, Swansea, MA 02777
Cardi's Furniture & Mattresses, 999 Newport Ave (Rt. 1A), South Attleboro, MA 02703
The businesses are collecting supplies that will be sent in containers directly to Lviv, Ukraine via Krakow, Poland to help those in need. Items that are most urgently needed are:
Clothing
Underwear
Socks
Footwear
Towels
Blankets
Sleeping bags
Diapers
Wet wipes
Personal hygiene items
First aid items
Over-the-counter medicine
Non-perishable food (No water please)
Paper plates
Plastic silverware
Toilet paper
Paper towels
Pet food/pet Supplies
If you cannot make the drive, or would prefer to make a monetary donation, Arpin International Group will be matching donations up to $10,000. Please visit http://arpin-strong.org/ to donate