Joe Paterno, Ex-Penn State Coach, dead at 85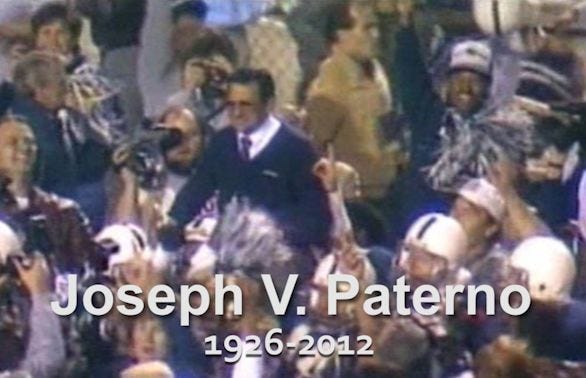 From ABCnews.com
Joseph Paterno, Jr., formerly the 46-year coach of Penn State's Nittany Lions, has died today.
Paterno, known for being the winningest coach in Division 1 college football, passed away at State College Hospital in Pennsylvania, where he was being treated since January 13, 2012.
A native of Brooklyn, New York and a graduate of Brown University, Paterno followed his college coach to Penn state as an assistant, disappointing his father who thought he would use his ivy-league education to study law. but after 16 years as an assistant, he took over as head coach and built the Lions into a powerhouse on the gridiron.
In 1982 he won his elusive first national title, and four years later he repeated that feat.
His teams would also have five undefeated seasons, and Paterno would earn more bowl appearances and bowl wins then any other coach in history.
Paterno was a five-time national coach of the year. In 2007 was inducted into the College Football Hall of Fame.
More than 350 of his players signed NFL contracts.
However, Paterno's 409th win would be his last–decades of excellence would soon be overshadowed by the revelation that Paterno knew of allegations that his former defensive
coach Jerry Sandusky was sexually abusing young boys but didn't do enough to stop it.
Less than a week later, in November of 2011, Paterno was abruptly fired.
The announcement sparked massive student rioting.
85 and weak from lung cancer, he explained his decision to go to university officials about Sandusky–and not the police.
To the end, Paterno maintained he had upheld the standards he set for his players, and for himself.
Only time will tell to what extent Joe Paterno's legacy will be stained by the scandal that consumed the final months of his life.
Paterno leaves behind his devoted wife Sue, five children, and 17 grandchildren.