John Edwards Indicted on Felony Charges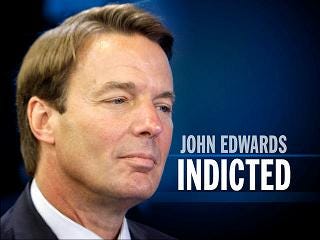 RALEIGH, N.C. (AP) – John Edwards is scheduled to make an initial court appearance this afternoon in North Carolina, after being indicted by a federal grand jury.
The indictment accuses the two-time presidential candidate of soliciting and then covering up the secret spending of more than $925,000 to hide his mistress and their baby during his 2008
campaign for the White House.
The indictment says the payments were a scheme to protect his White House ambitions — and what the indictment calls "his public image as a devoted family man."
There are four counts of receiving illegal campaign contributions, and one count each of conspiracy and false statements. There had been negotiations between Edwards' lawyers and federal
prosecutors on a charge to which Edwards would plead guilty, but people with knowledge of those talks say they proved fruitless.
If convicted, Edwards faces a maximum penalty of five years in prison and a $250,000 fine on each of the six counts. First-time white-collar offenders usually don't receive prison terms in federal court, but the Justice Department typically presses for at least a short prison sentence for public officials.
Copyright 2011 by The Associated Press. All Rights Reserved.